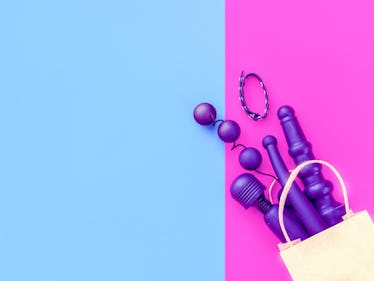 10 Black Friday Sex Toy Sales That'll Make The Holiday Season Seriously Steamy
Black Friday is fast approaching, and so are the holidays, which means you're bound to need some stress relief. If you're nodding your head in agreement, then I have good — no, great — news for you. To take the pressure off, and maybe so you can get off, I've rounded up the best Black Friday sex toy sales happening this week. When it comes to gifting yourself this holiday season, why not get something that keeps on giving? If you know what I mean.
The great thing about sex toys and sex accessories is that you can always find new ways to incorporate them into your sex life. For instance, if you have a New Year's resolution to make more time for yourself, picking up a waterproof vibrator to keep in your shower could help you do just that. And, with the sales I've listed below, you could even get a free Aquatic G Vibe with a purchase of $69 (nice) or more at sex toy store Babeland. Just like orgasms, you don't have to stop with just one. There's a whole list below featuring different deals on condoms, lube, vibrators, and accessories, including sex toy company Unbound's nipple and clit clamp.
Have I caught your attention yet? If not, the following ways to save on sex toys this Black Friday just might!