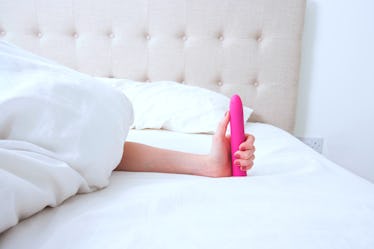 8 Sex Toy Tips That'll Make Your Life 10 Times Hotter
It often seems like sex toys are assumed to serve one purpose, and one purpose only, and that purpose is masturbation. And, hey, masturbating with a toy can be really amazing. What if I told you that there are a ton of other ways to incorporate sex toys into your life? To get the scoop on the most useful sex toy tips, I reached out to some of the most innovative and inclusive sex toy brands including Babeland, Unbound, Maude, and Satisfyer, and their experts gave me some brilliant advice.
When it comes to sex toys, it can help to start thinking of them as tools for improving and exploring different aspects of your sexuality. "Toys can help you be creative with how you incorporate sensation," explains Lisa Finn, a representative for sex toy store Babeland. "Erogenous zones extend way past the genitals, and taking time to explore how different types of touch or feelings react with your body can help you find entirely new ways to play." Not only can sex toys increase your level of pleasure but they can also be a vital addition to queer sex, sex when you have disabilities, or if you have trouble reaching climax for any number of reasons. I happen to fit into all three of those categories and value sex toys a lot as a result!
Sometimes there can be a lot of shame surrounding the topic, but hopefully the following advice will reassure you that there's nothing to be ashamed of. And, most importantly, that there's plenty of fun to be had with toys! I mean, they are called toys for a reason.