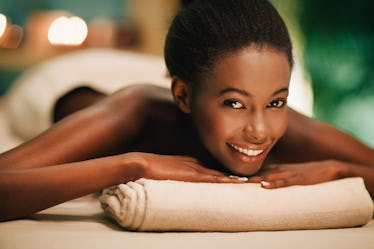 Massage Candles Are The Hottest, Most Luxurious Treat To Try Out In Bed
If you're unfamiliar with the concept of a massage candle, think of it like... a CWB (candle with benefits). Since candles are already hella sexy with their flickering light and delicious aromas, when I heard about massage candles, my mind was low-key blown. Unlike hot wax that can burn you, a massage candle melts into a mixture of oils that you can use for massages or sensual touching during foreplay. If I've caught your attention, and you're still wondering how to use massage candles in bed, look no further than the list of tips below.
If you have been curious about incorporating sex toys or products into the bedroom, massage candles could be a good place to start. They're a really great tool to set the mood with your partner, and giving someone a massage can be a really sweet and intimate way to show them affection. Imagine coming home from a long day to a candle flickering on the night stand and a partner waiting to relieve that tension in your neck and shoulders. When it comes to sex toys and products, the plethora of options and devices can sometimes be overwhelming at first. Massage candles are a great reminder that sex products and toys are about being creative and doing whatever is in within both of your comfort zones.
To learn more about massage candles and how to safely incorporate them into your sex life, I talked with Carol Queen, sex toy store Good Vibrations' staff sexologist about how to use massage candles safely and sexily.