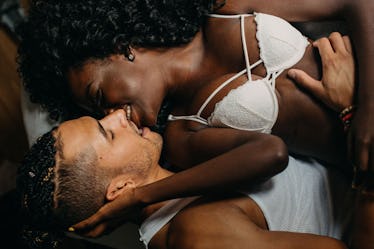 7 People Revealed The Most Passionate Sex They've Ever Had & Wow, Is It Hot In Here?
As fun as sex is, there may be a time or two that stands out from the rest; where you feel like you're having an out-of-body experience and don't know how it could possibly get any better, but somehow, it does. Know what I'm talking about? You can tell when sex is better and more passionate than usual, and the stories that come from these experiences are usually pretty epic. Thanks to reddit, some very lucky people revealed the most passionate sex they've ever had, and the stories will definitely get you all hot and bothered.
Obviously, not all sex is super passionate all the time, and even if you're deeply in love and having great sex with your partner on a regular basis, that doesn't mean it will always be out-of-this-world magical. And that's normal! The kind of sex you have is dependent on the relationship and the situation, as one expert said. "You can have sex every day and still feel disconnected from your partner, or you can have it once a week and it can be so meaningful," Dr. Carolina Castaños, a clinical psychologist who specializes in marriage and family therapy, and founder of MovingOn, previously told Elite Daily. "Good sex or intimacy is a product of a close and safe relationship."
So, what does it look like when you have sex that isn't just good, but deeply passionate and meaningful, as Castaños describes? Well, read on to find out.