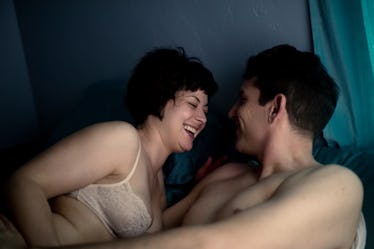 This Is How Often The Happiest Couples Have Sex, According To A Couples' Therapist
I've had my share of long-term relationships, which means I've witnessed the progression of a romantic connection go from a "flirtationship" to the honeymoon phase to the "Netflix and chill" phase. Most notable in each phase, though, are the ups and downs in your sex life. I mean, how often should you have sex after you've moved in together? Aren't you sick of each other by now? If you're in a happy, healthy relationship, probably not — but there's certainly no guarantee. Anyone who thinks that moving in with their partner means they'll be having sex every night has obviously never seen Sex and the City.
In the movie, each member of my favorite NYC girl gang gets frank about how often they have sex when Miranda reveals that the last time she and her husband Steve had sex was six months ago. She offers up a few excuses for what she calls "a dry spell," like having a full-time job, a toddler to take care of, and an unwell mother-in-law. But Samantha and Carrie don't buy it. The only person who comes to her defense is Charlotte, saying calmly, "Every couple is different."
It's almost as though Charlotte spoke to Dr. Carolina Castaños, a clinical psychologist who specializes in marriage and family therapy, and the founder of MovingOn, a program designed to help heal broken hearts. She didn't but I did and Dr. Castaños agrees. "There is no magic number," she says. (Although, TBH, Charlotte would seek out a marriage therapist.)
According to Dr. Castaños, like with most other things, a healthy sex life is more about quality than it is about quantity. "You can have sex every day and still feel disconnected from your partner, or you can have it once a week and it can be so meaningful. Good sex or intimacy is a product of a close and safe relationship," she says.
So why was Miranda's situation such a big deal? Well, because the movie is literally called Sex and the City, which implies that sex is a major plot device. But also, because how often you have sex still says a lot about your relationship.