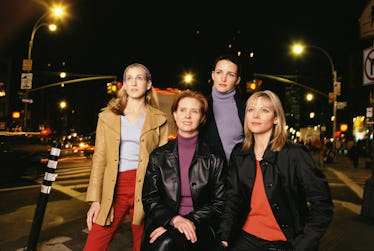 The Timeline Of Drama Between The 'Sex And The City' Co-Stars Proves The Rivalry Is Deep
Getty Images/Getty Images Entertainment/Getty Images
Sex and The City ran for six years, produced two movies, and solidified its spot as one of the most iconic shows to come out of the early 2000s. Although the show was wildly successful and focused on the bonds of friendship, behind the scenes wasn't always smooth sailing for the cast. Feuds between the stars of Sex and The City have been happening seemingly since the very beginning.
Carrie, Samantha, Miranda and Charlotte. No four women have made me laugh louder and cry harder while simultaneously needing to FaceTime my BFFs. Sarah Jessica Parker, Kim Cattrall, Cynthia Nixon, and Kristin Davis have so much chemistry on-screen, I sometimes forget they are playing fictional people. I also choose to forget the plot hole where Carrie's weekly newspaper writer salary can afford her a gorgeous Manhattan apartment and frequent trips to Manolo Blahnik and Barneys. But, I digress.
There's no denying SATC is a great show, but what was all the drama about behind the scenes? In the words of Carrie Bradshaw herself, "Who's a b*tch and who's a bigger b*tch?"
After doing a little digging, it seems like it's been the people versus Kim Cattrall as long as the show has been running. Most of the feuding has been centered around the relationship between Cattrall and SJP. Is there any truth to the "diva" and "hypocrite" accusations? I'll let you be the judge of that. Below is the full timeline of the relationship between Parker and Cattrall — it's intense.
In the beginning...
According to the New York Post, Nixon and Parker had known each other since they were pre-teens from their Broadway acting days. This made the two instantly bond on set, and soon Davis infiltrated their group — reportedly leaving Cattrall to fend for herself.
Before the series, Cattrall was considered a big name in the business — she starred in the successful movies Mannequin and Big Trouble in Little China. While rumors of competition and resentment spread during the peak of SATC's success, all of the actresses denied these accusations.
Everything came to a head in 2004 when the show ended. Reports of an uneasiness throughout the set became louder and louder. One insider claimed to the New York Post that no one would talk to Cattrall towards the end of the series, "not even in the makeup room."
This is when Cattrall took over her own narrative by telling British talk show host Jonathon Ross that money had everything to do with her decision to leave. She said on Friday Night With Jonathan Ross that she asked for her salary to increase from $350,000 per episode to $1 million per episode. She explained,
I felt after six years it was time for all of us to participate in the financial windfall of Sex and The City ... When they didn't seem keen on that I thought it was time to move on.
Since Parker is an executive producer of the show and movies, her salary was much larger than her fellow co-stars, which led to more conversations about tension happening on set. The CEO of HBO, Chris Albrecht, explained,
When you're keeping people for years, you have to continue to pay them more money. Sarah was becoming more and more famous, and her salary increased beyond what was contractually committed, which is normal for hit shows. The other actresses wanted to keep up.
In hindsight, Parker has no hard feelings about Cattrall choosing to walk away. In 2016, she posted a happy birthday message on Instagram for Cattrall's birthday calling her her "sister." She told Time that all the cast members were "at liberty to walk away" whenever they felt like it. She said,
I posted something on Kim's birthday and people were like, 'Oh my God, I didn't know you liked her!' What? We were all at liberty to walk away at any time! But nobody asked those questions of shows with men. Isn't that interesting?
Then came the movies...
Fans rejoiced over the Sex And The City movies. Originally supposed to start filming immediately after the series in 2004, production was held up until 2008 due to more reported salary demands from Cattrall. Parker chose to defend her co-star to The Telegraph while on set. She said,
She mentioned money and no one should vilify her for it. People made a decision that we had vilified her. No one bothered to say [to the rest of us], 'Are you disappointed by not making the movie?' Yes. 'Do you respect and support her choice to not do it?' Absolutely.
The first SATC movie grossed over $415 million worldwide, according to Box Office Mojo. This is pretty good motivation for producer Parker to push for the creation of more movies.
While this seems like a rough ending point, the cast members were still denying any bad blood between them. In 2009, Parker addressed the salary disputes and the never-ending drama circuit by telling Elle, "I don't think anybody wants to believe that I love Kim." She continued, "I adore her. I wouldn't have done the movie without her. Didn't and wouldn't."
In the same article, Cattrall praised Parker by saying, "She shines and she allows you to shine as well."
Some kind words along the way...
It wasn't always cutthroat. Besides the cloud of drama surrounding the third movie, Parker and Cattrall worked hard to diffuse any rumors about animosity between the two. Cattrall tried to put an end to the conversation once and for all with Daily Mail in 2010. The actress said,
People don't want to believe that we get on. They have too much invested in the idea of two strong, successful women fighting with each other. It makes for juicy gossip and cop. The truth of us being friends and getting along and happily doing our jobs together is nowhere near as newsworthy. I think Sarah is fantastic. She is a born leader and she guides the crew and the cast in such a strong but gentle way. She and I are sick of this. It's exhausting talking about it, and a real bore. Next?
The same year, Parker did admit that "feelings get hurt" on set sometimes. She told Marie Claire,
You're on set, you're working 90-hour weeks, you're never home, you're exhausted ... There are times when all of us have been sensitive and sometimes feelings get hurt. But I don't have any regrets about how I've treated people.
Cattrall agreed with the stress that comes with long work days. She added,
Nineteen-hour workdays are stressful, whether you're driving a truck, working in a coal mine or on a set and trying to be your brightest at 4 o'clock in the morning. But there's a camaraderie that happened through all of that... the chemistry among the four of us is very strong.
She also mentioned the double standard between genders, and how the press puts women in "boxes." She continued,
Because the press has to put women in these boxes, rather than show them as the movie portrays them: working together and being powerful. Things just have to be explosive for no other reason than for people's imaginations.
At this point, it seemed like all the fighting, arguments, and disagreements were a figment of the tabloid's imagination.
Cattrall puts her foot down...
Two SATC movies got made, but Cattrall firmly put her foot down and refused to do the third. It was announced by Parker that it was a hard pass on the third SATC movie. She told Extra,
It's over... we're not doing it. I'm disappointed. We had this beautiful, funny, heartbreaking, joyful, very relatable script and story. It's not just disappointing that we don't get to tell the story and have that experience, but more so for that audience that has been so vocal in wanting another movie.
Even the actor behind Carrie Bradshaw's BFF Stanford Blatch, Willie Garson, jumped into the mix when he tweeted,
Disappointed for all crew holding on for negotiations to conclude for their jobs, and of course, for the fans. Leave it at that. #Truth
Cattrall was definitely villainized at this point as the reported only thing stopping production. The actress took to social media to defend herself. She said in a tweet,
Woke 2 a @MailOnline [poop emoji] storm! The only 'DEMAND' I ever made was that I didn't want to do a 3rd film....& that was back in 2016.
Cattrall proved that she was not going to sit by idly while her name was trashed. She told Piers Morgan during Life Stories in October of 2017 that SJP "could have been nicer." She said,
And now, now at this very moment it's quite extraordinary to get any kind of negative press about something that I've been saying for almost a year of 'no' that I'm demanding or a diva. And this is really where I take to task the people from Sex and the City and specifically Sarah Jessica Parker in that I think she could have been nicer. I really think she could have been nicer. I don't know what her issue is, I never have.
Cattrall continued by saying there is "genuine affection" between her and Parker but,
This is extenuating circumstances and in the past I've felt, wow, especially with the fans I don't want to in any shape or form ruin an ideal of it, because it does stand for empowerment and it does stand for women sticking up for each other, but not always.
One thing Cattrall made clear is that she has fallen out of touch with her former castmates. She added, "The common ground that we had was the series and the series is over."
Parker did end up responding to Cattrall's comments during an exclusive interview with People. She told the publication,
I never responded to the conversation Kim had with Piers Morgan, where she said things that were really hurtful about me. We had this experience and it was amazing, and nothing will ever be like it. We had a connection with an audience, and we had a connection with the city and with this crew, and we got to tell these crazy stories with each other. So I don't want to mess with that.
Another negative turn...
On Feb. 5, 2018 Cattrall took to Twitter to announce the sudden death of her brother, Christopher Cattrall. This came as a shock after she took to Instagram the previous day to ask fans for help locating him. She said in the caption of a snapshot of her and her brother,
It is with great sadness that myself and my family announce the unexpected passing of our son and brother, Chris Cattrall. At this time we ask for privacy but we want to thank you all on social media for your outpouring of love and support in this trying time.
Parker responded to the heart-wrenching post by commenting, "Dearest Kim, my love and condolences to you and yours and Godspeed to your beloved brother. Xx."
Cynthia Nixon also popped up in the comment section to offer her condolences. She wrote, "Hey Kim such awful news. So sorry to hear. Sending you love. XO."
This was seemingly the straw that broke the Manolo's back because Cattrall took to Instagram to shut down any further conversation once and for all. She said,
My Mom asked me today 'When will that @sarahjessicaparker, that hypocrite, leave you alone?' Your continuous reaching out is a painful reminder of how cruel you really were then and now. Let me make this VERY clear. (If I haven't already) You are not my family. You are not my friend. So I'm writing to tell you one last time to stop exploiting our tragedy in order to restore your 'nice girl' persona.
Ouch. There's really not much left to say after that, and Parker did not respond publicly to Cattrall's post by the time this article was published.
The entire feud runs so deep, it's hard to choose sides. However, Jason Lewis, the actor who portrayed Samantha Jones' longtime boyfriend Smith Jerrod (aka the Absolut Hunk), recently declared he was "Team Sarah." Speaking with KTLA, Lewis said,
Listen, I would have to say that Sarah was always just so lovely and such a consummate professional and I think that people should remember their graciousness and the things that have been given to them.
He continued, "What a gracious lady. She was always so good to me."
This is just one person's opinion on the matter, and I'm sure each person on set would give a different story about what happened between the stars. After all the ups and downs between Cattrall and SJP, I would say this narrative is closed... for now.
Check out the entire Gen Why series and other videos on Facebook and the Bustle app across Apple TV, Roku, and Amazon Fire TV.