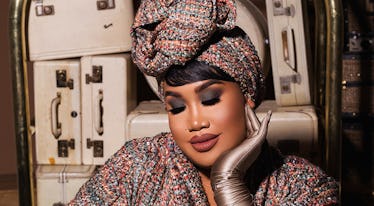 The MAC x Patrick Starrr Destination Diva Collection Has Me Ready To Serve Up Fall Beauty Lewks
Courtesy of MAC Cosmetics
Ever since it was announced, I've been dreaming about Patrick Starrr's fourth MAC Cosmetics collab and all the vintage-glam looks I could create with it. With each seasonal collection, this dream team has crafted a unique vibe and overall theme, and this time around the products are laced with an autumnal wanderlust I'm just dying to try out for myself. What's in the MAC x Patrick Starrr Destination Diva Collection, you ask? Pretty much the only new products you need to add to your makeup bag for fall. Plus some others that you don't need, but you'll probably really, really want.
About a month ago, Youtuber and beauty guru Patrick Starrr uploaded a video featuring a first look at his Destination Diva collection, and it's safe to say the beauty community has been looking forward to the drop ever since.
"This collection is first class, jet-set glamour. This is for the woman on the go," Starrr gushes in the video reveal, going on to cite it as a collection for "the diva in all of us." Considering my inner diva was beyond thrilled when I saw these products, it's safe to say Starrr and MAC have captured their target audience.
I would apply absolutely any product that promised to make me look as fab as Patrick does here, in the Destination Diva campaign images:
And not only will the products make me look better, but they'll apparently make for some gorg flatlay posts on my Instagram feed, too. Talk about a win-win:
So, what exactly are we looking at here? This time around, the collection is divided into two kits, the Oh No She Beta Don't set and the Boy About Town set. Both include one liquid lipstick and one eyeshadow palette, and have respective day and night vibes.
The Oh No She Beta Don't Kit ($43, maccosmetics.com) comes equipped with a wearable, universal nude lippie and a light eye palette you could take from day to night with just a smudge of the darkest shade.
For the lips, Starrr and MAC selected the brand's RetroMatte Liquid Lipcolour formula, and went with shade "Ultimate Diva," a cool nude I can already see myself keeping in my handbag for everyday use.
The Eye Shadow x 4 palette has four shades, natch, including soft caramel "Sugah Stick," cool medium brown "Deception," blackened olive "Damn She Olive," and matte blackened brown "FirstClass." I love that the overall look within this kit is fairly neutral, yet the colors are anything but basic.
The collection's second set is the Boy About Town Kit ($43, maccosmetics.com), which features the perfect going-out red lip and a warm-toned palette to keep you looking hot in fall's colder temps:
To contrast the classic nude in the other kit, Boy About Town's shade of RetroMatte Liquid Lipcolour is as statement as it gets. "#pattypout" is a deep burgundy color that happens to have the cutest shade name in the history of lipsticks.
The eyeshadow quad comes equipped with midtone warm brown "Head Over Heels," golden bronze "Primo Donna," matte dark red brown "I'm Into It," and deep blackened brown "Dance in the Dark."
Picture this: "Head Over Heels" in the crease, "Primo Donna" packed onto the lid with a wet brush, "I'm Into It" placed onto the eye's outer third, and "Dance in the Dark" smudged to smoke out the upper and lower lashlines. There you have it: the ultimate night-out eye look in just four steps. Thank me later — or, I guess you can thank Starrr and MAC for putting the pieces together for all of us.
Typically, one RetroMatte Liquid Lipcolour will cost you $21, and an Eye Shadow x 4 Palette will run you about $33, so a set with both — in Starrr's ultra-chic packaging, no less — for around $43 is a total steal.
If you're dying to snatch up one (or both) of these kits for yourself, they went live on the MAC Cosmetics site on September 6, and are still available to purchase. Personally, I'll be grabbing the Oh No She Beta Don't kit for all my daytime events, and opting for the Boy About Town kit for date nights and dramatic selfies, but there's really no wrong way to rock it when a collection is this damn good. Kudos to Patrick Starrr and MAC Cosmetics on yet another fire collab!