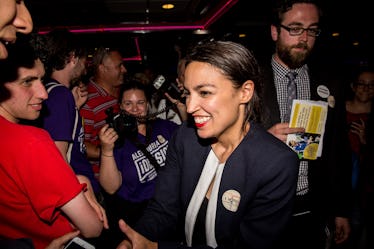 Twitter Raved About Alexandria Ocasio-Cortez's Bold Red Lip, So She Told Everyone Her Secret
Scott Heins/Getty Images News/Getty Images
In politics, it is very common that candidates use color psychology to win your vote. Red ties, as one example specifically, are among the tactics said to make a candidate look aggressive, strong, and dominant. Well, for Alexandria Ocasio-Cortez — a 28-year-old Democratic Socialist who just ousted a powerful 10-term congressman in the primary elections for New York's 14th Congressional district in Queens — color psychology may have been at play. But a tie wasn't the "something red" the candidate went for. Rather, it was Ocasio-Cortez's signature red lip.
On Tuesday, June 26, the Bronx native defeated incumbent Representative Joe Crowley, who'd previously served on the House of Representatives for 20 years, in a major political upset that no one was expecting. In just hours, the Latina millennial woman quickly went from being referred to as "Crowley's opponent" in the political press to one of the most powerful 20-somethings vying for Congress. As a millennial female, I'm elated that Ocasio-Cortez's grassroots campaign ultimately led to her primary victory over her older male opponent.
Now, of course, it was Ocasio-Cortez's unending willpower, determination, hard work, and regard for the people she hopes to represent that resulted in her primary victory. But as a beauty writer, I can say that I relate to all the folks who could not stop obsessing over Ocasio-Cortez's bold red lip throughout her entire journey.
Recently, Ocasio-Cortez's Twitter mentions have been flooded with followers requesting — no, demanding — to know what lipstick the candidate had been rocking as of late. Viewers couldn't help but notice how the bright red, matte lipstick shade didn't budge throughout the entire debate, and they needed the candidate to spill her makeup tea. And thankfully, after her June 15 debate against Rep. Crowley, Ocasio-Cortez obliged.
"I have been getting many inquiries about my debate lip color in the last two days," she tweeted. "I GOT YOU. It's Stila "Stay All Day" Liquid in Beso ($22, stilacosmetics.com)." The bright red shade delivers the epitome of a bold red lip. The liquid lipstick that retails at Sephora goes on smooth and creamy, while offering a full-coverage look that lasts all day long.
While most residents in Ocasio-Cortez's district are probably interested to learn more about the candidate's progressive plans, like stricter gun control, health care reform for all, and tuition-free public colleges, an overwhelming number of Twitter users have become obsessed with Ocasio-Cortez's affinity for a bright, bold lip.
Read on to see how some Twitter users have shown major love for Ocasio-Cortez's campaign, victory, and, of course, her signature lip color.
One Twitter user shared how she also uses Stila's Liquid Lipstick in "Beso." Politicians — they're just like us!
Following the debate, another Twitter user realized it's no longer about the red power tie, but more about the fierce red lip.
Forget Cady Heron's army pants and flip-flops. Now it's all Alexandria Ocasio-Cortez's red lip.
Like I said before, Ocasio-Cortez's hard work and accomplishments are the things that have gotten her where she is now. But in a field that typically doesn't favor women, I'd consider Ocasio-Cortez's decision to embrace femininity and rock a bright shade of lipstick a serious power move. Even better, that hard work, those accomplishments, and that power move seriously paid off. Here's hoping that the candidate's winning streak continues into the actual election in November, where she'll be up against Republican Anthony Pappas.
If you want to channel Ocasio-Cortez's signature red lip but don't know where to start (I get it, applying and rocking such a bright color can seem intimidating), find out how you can easily apply red lipstick to channel the congresswoman here.