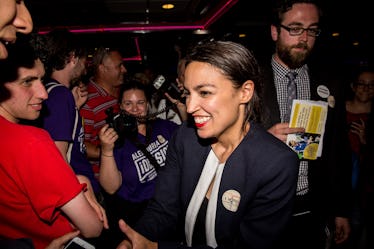 Millennials On Twitter Were Pumped After Alexandria Ocasio-Cortez's Primary Win
Scott Heins/Getty Images News/Getty Images
On Tuesday night, June 26, a young Democratic challenger named Alexandria Ocasio-Cortez pulled off a major upset in the House primary for New York's 14th congressional district (NY-14). The 28-year-old Ocasio-Cortez won the Democratic nomination for the House seat by defeating Rep. Joe Crowley (D-New York), a political veteran who has been serving in Congress for 20 years. After her win, tweets about Alexandria Ocasio-Cortez's victory were indicative of one big takeaway from Tuesday night: Millennials and progressives are excited and hopeful about a new era in politics.
It's clear why, too.
The results of the 2018 midterm elections in November will ultimately tell whether there is an actual progressive uprising — the "blue wave," as it's called — that will help Democrats win back a majority in Congress. If there is, Ocasio-Cortez is surely the most notable sign of that wave yet.
"[Ocasio Cortez] is a 28-year-old socialist. She's a woman of color. She started this campaign by handing out fliers between shifts working at a restaurant," tweeted Addy Baird, a reporter for Think Progress. "She's called for single-payer, free college, and abolishing ICE. She just took down a machine."
"Alexandria Ocasio-Cortez campaigned on not taking PAC money and abolishing ICE," tweeted liberal activist Adam Best. "Her upset victory shows where the energy is at on the left, especially in deep blue areas."
Alexandria Ocasio-Cortez is a former organizer for Vermont Sen. Bernie Sanders 2016 presidential campaign. Like Sanders, she is described as a "Democratic Socialist," and her campaign platform reflects that description.
As some of the tweets highlighted above mention, she ran on abolishing the the Immigration and Customs Enforcement agency (ICE), universal healthcare, and free tuition at public colleges, among other campaign staples.
The numbers from Tuesday night highlight just how much of a change to the status quo her victory represents.
Ocasio-Cortez won the NY-14 Democratic primary with 58 percent of the vote, despite being outspent by an 18-1 ratio, per NBC News.
Rep. Crowley, who's 56 years old, is currently the fourth ranking Democrat in the House of Representatives. Prior to Tuesday night, he had been considered a potential successor to Rep. Nancy Pelosi (D-California), the current leader of the Democrats in the House. Crowley had previously won 10 House elections, dating back to 1998, when Ocasio-Cortez was eight. The last time Crowley had another Democrat challenge him in a primary was 2004.
Now, 14 years later, Rep. Crowley has been unseated by a first-time candidate who ran a campaign that was about, among other things, taking out the old and bringing in the new.
"Congress is too old, they don't have a stake in the game," Ocasio-Cortez told Elite Daily earlier in June. "They won't have to deal with 20-foot storm surges, but we will," Ocasio-Cortez added, alluding to climate change. "It's going to be us and our kids that have to deal with this."
The top two leaders among House Democrats are both four decades older than Ocasio-Cortez. House Minority Leader Pelosi is 78 years old. The House minority whip and second highest ranking Democrat, Maryland Rep. Steny Hoyer, is 79.
After his defeat on Tuesday night, Rep. Crowley endorsed his opponent.
"I want to congratulate [Ocasio-Cortez]. I look forward to supporting her and all Democrats this November," Rep. Crowley tweeted. "The Trump administration is a threat to everything we stand for here in Queens and the Bronx, and if we don't win back the House this November, we will lose the nation we love."
At his campaign headquarters, the 10-term congressman, who also plays the guitar, dedicated a song to Ocasio-Cortez: a rendition of Bruce Springsteen's "Born to Run."
In November, Alexandria Ocasio-Cortez will do just that: make a run for NY-14's House seat, in a bid to become the youngest woman ever elected to Congress.