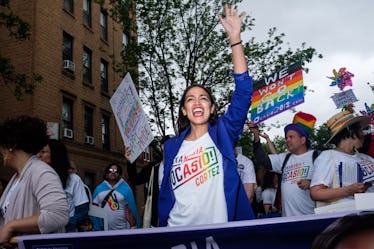 Meet Alexandria Ocasio-Cortez, The 28-Year-Old Running For Congress In The Bronx
Jennifer Mason
There are a host of things that set Alexandria, a native Bronxite, apart from your run-of-the-mill House candidate. For starters, she's probably the only candidate in a House race who still gets carded at bars. And it's not hard to see why: with a vibrant smile and energetic, high-toned voice, her youthfulness is overwhelmingly obvious. But Alexandria Ocasio-Cortez, though only 28 years old, isn't one to be underestimated. As a first-time candidate in the 2018 midterm elections, she's looking to unseat one the nation's most powerful Democratic incumbents.
UPDATE: Ocasio-Cortez won the Democratic primary to represent New York's 14th District in a landslide upset on June 26, beating long-term incumbent Rep. Joe Crowley by a margin of about 15 percent, per The New York Times. In a tweeted statement, Crowley congratulated Ocasio-Cortez on her win, saying that he looks forward to "supporting her and all Democrats this November." Ocasio-Cortez will face off against Republican Anthony Pappas in November.
EARLIER: A community organizer, Ocasio-Cortez's résumé includes working on economic policy, organizing for Bernie Sanders' campaign, and serving as an educational director for high school-age youth. She studied economics and international relations, and lists economic reforms, Medicare, health care, immigration rights, and climate change among her priorities should she get to office.
While other twenty-somethings might be out grabbing dinner with friends after work, Ocasio-Cortez would change into an extra set of clothes and set out canvassing. "I started my campaign out of a Trader Joe's bag with a bunch of printed palm cards and an idea," she tells me in an interview for Elite Daily. "I did that for five months."
Ocasio-Cortez had just turned eight when Democrat Joe Crowley was selected to represent New York's 7th district in 1998. At the time, the area encompassed parts of the Bronx and Queens, but thanks to a redistricting in 2012, the district is now New York's 14th. Now, 20 years later, she's threatening to unseat the man who's represented the district since she was a child.
She's got a steep uphill battle facing her June 26 primary. She'll face off against Crowley, who's exactly double her age and has more than 20 times the cash, before getting a shot at the November general election. According to the Federal Election Commission disclosures, her campaign had about $128,000 to Crowley's $2.78 million in funding. (She proudly touts that her campaign accepts no donations from corporate PACs.)
They're going to tell you as a young person, no matter what you've done, that you're not good enough.
If elected, Ocasio-Cortez could be the youngest woman ever elected to the House. According to the Congressional Research Service, the average age of a House member at the beginning of this session was 57.8 years, and 61.8 years for a senator. That's one of the highest averages in the legislature's history. Under the U.S. Constitution, House representatives must be at least 25 years old (and senators 30) when they take office. The youngest member of Congress currently is fellow New Yorker Elise Stefanik, who was 30 years old when she took office in 2015.
In fact, it's out of a sense of responsibility as a young person that Ocasio-Cortez is daring to take on a high-profile member of her own party. "Congress is too old, they don't have a stake in the game," she says. Issues like climate change and the rising costs of higher education and housing, she adds, aren't being addressed by the current representation.
"They won't have to deal with 20 foot storm surges, but we will," she adds, referring to current officeholders. "It's going to be us and our kids that have to deal with this."
Voters across age brackets have embraced the idea of having a younger leader in office, Ocasio-Cortez tells me. And plenty of those potential voters are her own age. According to the Center for Information and Research on Civil Learning Engagements (CIRCLE) at Tufts University, 18- to 29-year-olds comprise 21 percent of the voting age population — more than the senior population. And Millennials will soon become the largest voting group in the country. They're not alone. There's also a surge of new voters — like the student activists behind the school gun violence protests this spring — who have made it clear they plan to exercise that power this November.
Ocasio-Cortez may be younger than most candidates, but she's had plenty of practice debating the issues. Growing up in a Puerto Rican family, "Politics were talked about at the table every single day," she explains. "It's the culture. In Puerto Rico, you talk about politics all the time, even when people disagree."
Ocasio-Cortez graduated from Boston University in 2011. I ask if she, like many Millennials, has any outstanding student loans — something Crowley, at 56, presumably doesn't have. "Oh heck yes," she says, laughing. "I'm definitely still paying these off."
In school, she got through financially on a combination of scholarships, work-study jobs and other odd jobs, and tutoring in economics. Upon graduation, she moved back to the Bronx and started working as an educator at the National Hispanic Institute. But after her father passed away at the height of the financial crisis in 2008, she had to take on additional jobs waitressing and bartending to help the family make ends meet.
Ocasio-Cortez still rents an apartment in the Bronx, but as a third-generation resident, she's now the only one of her immediate family who still lives there. "My mom had to move to Florida because she couldn't afford it" she tells me. "Our family is largely separated because of the cost of living in New York." Free tuition, affordable housing, and a $15 minimum wage are all issues on her priority list should she be elected.
And it's because Congress has so few representatives that are like her that Ocasio-Cortez believes more young people need to run for office. "We need an entire generation to start taking up these seats," she says.
"When you start, you're gonna be loaded with doubt," she says. "At a certain point, they're going to tell you as a young person, no matter what you've done, that you're not good enough. We just can't take that sitting down."
Her advice for young people like her is clear. "You just gotta own it, man. You just gotta own it," she says. "Don't ask permission, roll up your sleeves, and start knocking on people's doors."
Editor's note: This article has been updated to reflect that Ocasio-Cortez would be the youngest woman, not person, elected to the House.