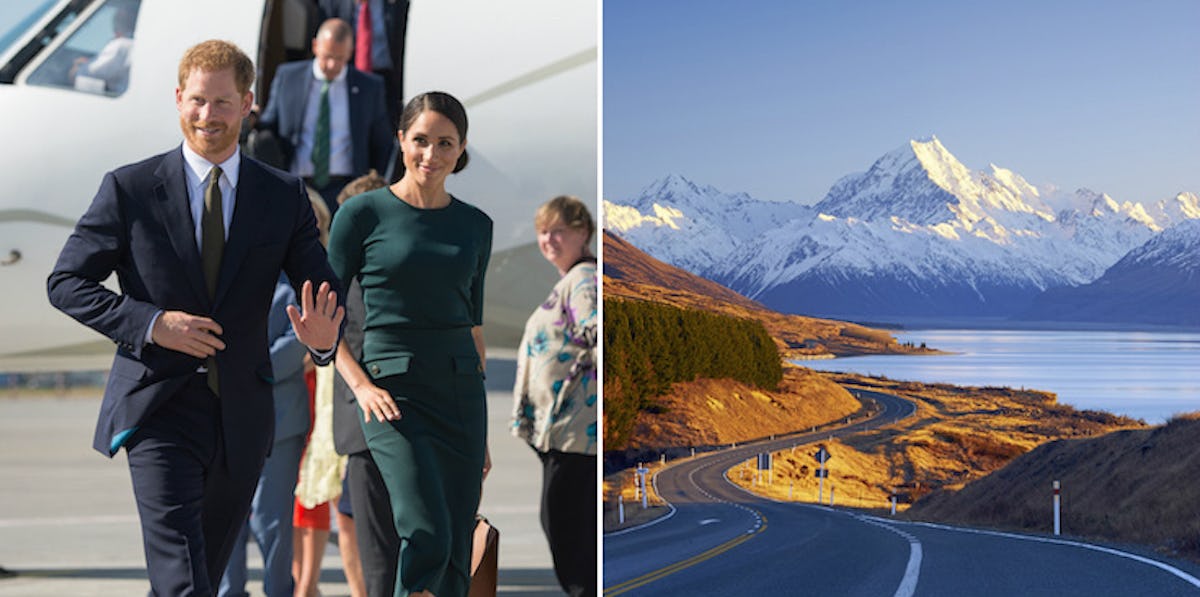 You Can Actually Travel Like Prince Harry & Meghan Markle With One Of These Royal Trips
Prince Harry and Meghan Markle are relationship #goals, and the streak continues with their next adventure. This October, the two will go on their first official international tour to Australia for the Invictus Games — a Paralympic event initiated by Prince Harry for wounded servicemen and women. While they're in Australia, they'll reportedly stay in a gorgeous mansion, according to The Herald Sun. *Excuse me, where is the sign-up sheet for this entire lifestyle?* The trip is dreamy and meaningful at the same time, and you're just wondering how you can travel like a royal and have this experience of a lifetime, too. Well, thanks to some major inspiration from this regal couple, your itinerary is already planned and ready to go.
If you haven't been totally keeping up with the couple's whereabouts thus far, here's a quick review: There was the magical wedding with horse-drawn carriages and designer dresses. Then, they made their first appearance as the Duke and Duchess of Sussex at Prince Charles' birthday celebration. Since then, there have been a bunch of other royal events, like Trooping the Colour and train rides with Queen Elizabeth.
Soon enough, they'll be hopping on a plane and putting another outing in the books. You'll be anxiously scrolling through social media the entire time, waiting to see pictures of the couple and taking notes for your own calendar.
Grab your suitcase, passport, and a pair of glamorous sunglasses. Here's where you need to go ASAP, to live and see the world like a royal.
Where should solo travelers go for a royal trip?
Solo travel can be an adventure in itself. You're figuring out how to take photos of yourself in dreamy places, and making new friends along the way. It's much different than any family vacation or road trip with your girls. But, what if you then add a destination inspired by the royal couple? Going to Australia for a few weeks with Contiki will be the ideal getaway for millennials in search of something magical.
According to Contiki.com, the East Coast of Australia is known for its beaches and beautiful cities. With the Beaches and Reefs package, you can get a taste of it all during a 13-day trip, and not worry about missing out on a single experience. The tour starts in Sydney, and then heads along the coast of New South Wales. Transportation, a majority of your meals, and accommodations are included, so you'll be arriving (and thriving) at every spot with comfort and a good night's sleep under your belt.
You can expect to hang at Lake McKenzie on Fraser's Island, take a ride on a wildlife tour, learn how to surf, or go snorkeling at the Great Barrier Reef. You may even find a few travel buddies in your group, because these excursions are meant to be social and sun-soaked.
Check things off your bucket list so that you live life with #noregrets — and like a royal. The sooner you book the trip, the more likely you are to see the Duke and Duchess of Sussex in the major cities!
Where should you and your significant other go for a royal trip?
If you're looking to go on a royal-inspired trip with your significant other, or even your best friend, then head to New Zealand. This country is full of places to explore — from cities like Wellington, to the glaciers and snowy mountains that are quite picture-perfect. You'll never be bored, and feeling like Meghan Markle and Prince Harry from the second you touch down.
For the most ideal and magical itinerary, book your trip with Trafalgar and snag a spot on the New Zealand Splendour tour. This 15-day trip will take you to the major cities for an exclusive guided tour of Te Papa Museum of New Zealand, and then out into the landscapes that'll leave you in awe. You can also expect to have a romantic day of massages and facials at the Polynesian Spa in Rotorua, and take a boat ride through Auckland. (Um, yes please!)
When all is said and done, you and bae will feel relaxed and recharged from your rather royal vacation. There's truly nothing like a few waterfalls and some sightseeing on the other side of the world to prepare you for your crown, or another busy week at work.
How else can you live like Prince Harry and Meghan Markle?
Passports and suitcases aside, it's time to get regal at home. Sure, palaces can be pretty expensive, and you aren't going to be attending a royal get-together with Queen Elizabeth anytime soon. But, you can treat yo' self in other ways to this magical lifestyle.
For example, buy your significant other a present that's inspired by the couple, from when they first started dating. According to People, Prince Harry reportedly gave Meghan a piece of artwork a few days before they went public with their relationship — and it was so romantic. You can even have another viewing party of the royal wedding with your best friends, bake some scones, and imagine your own happily ever after.
Your very own crown is on its way. But for now, traveling the world will be just fine.