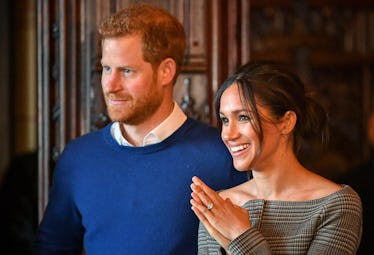 Meghan Markle & Prince Harry's First Appearance As A Married Couple Will Be So Meaningful
WPA Pool/Getty Images Entertainment/Getty Images
Meghan Markle and Prince Harry are tying the knot this Saturday, May 19, and the world is watching their every move. All eyes will be on them as they exchange vows and spend their first few weeks of marriage in newlywed bliss. With that said, Royal family enthusiasts will be happy to know that Meghan Markle and Prince Harry's first appearance after their wedding will be at Prince Charles' birthday celebration. So sweet!
Prince Charles will be turning 70 years old later on this year — in November to be exact — but Kensington Palace has set Wednesday, May 22 as the day to celebrate the milestone birthday. Markle, 36, and and Harry, 33, will join the Prince of Wales and Duchess of Cornwall at Charles' Birthday patronage celebration in the gardens of Buckingham Palace.
The celebration is expected to attract more than 6,000 guests, including Prince William and his wife, Kate Middleton. The event will honor Prince Charles' favorite charities, his patronage, and his military affiliations.
In addition to celebrating Prince Charles' life and humanity, the birthday event will also honor the emergency personnel that were on hand for the attack on Manchester Arena, which occurred during an Ariana Grande concert in May 2017.
The Band of the Welsh Guards and the National Youth Pipe Band of Scotland are expected to perform. So, all in all, Prince Charles' birthday celebration sounds like it's going to be pretty entertaining.
As for the new royal couple, Markle and Prince Harry, the two will be postponing their highly anticipated honeymoon in order to attend the patronage celebration. And that might actually not be a bad idea given the media frenzy surrounding the wedding. A little quiet following such an intense journey to marriage is probably just what they need. They can worry about their honeymoon — and all the hoopla that will undoubtedly surround it — later.
Speaking of media frenzies and royal hoopla, Markle has been having a bit of a difficult time in recent days. Her father, Thomas Markle, reportedly told TMZ that he suffered a heart attack and could no longer walk his daughter down the aisle. Elite Daily reached out for comment on the report but did not hear back by the time of publication.
In a statement released Monday, May 14, Kensington Palace asked for respect and understanding at this time:
This is a deeply personal moment for Ms. Markle in the days before her wedding. She and Prince Harry ask again for understanding and respect to be extended to Mr. Markle in this difficult situation.
The sad news of the Markle patriarch's heart attack came just one day after a video of him reportedly staging paparazzi photos surfaced via The Daily Mail, which reportedly caused some embarrassment to the Royal family.
If all that wasn't disconcerting enough, TMZ reported today, May 15, that Markle's father changed his mind about attending the royal wedding yet again. Elite Daily reached out for confirmation on the report but did not hear back by the time of publication. He allegedly told TMZ the following:
I hate the idea of missing one of the greatest moments in history and walking my daughter down the aisle.
So now, just four days prior to the big day, the mystery of Thomas Markle is still up in the air. Will he attend or won't he? And how much of an issue will this be for the Royal family? It's an unfortunate situation all around, especially for Markle, who should be celebrating her upcoming wedding.
The wedding is scheduled for May 19 and will take place at St. George's Chapel at Windsor Castle in England. Markle and Prince Harry dated for more than a year before announcing their engagement in November 2017.
Hopefully all will turn out just fine for the big day and Markle's dad can walk her down the aisle!