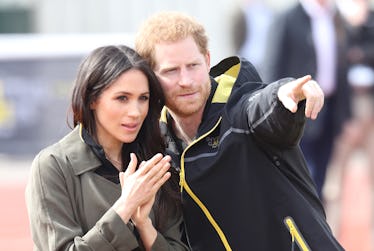 Meghan & Harry Are Going On An International Trip After Their Wedding & It Sounds Amazing
Chris Jackson/Getty Images Entertainment/Getty Images
The royal wedding is just five weeks away, and Prince Harry and Meghan Markle have confirmed that their first official international trip will take place only a few months later. Looks like the happy couple will be heading down under, as if I couldn't get any more jealous of all stuff these two have to look forward to. But this adventure is actually a super admirable one. Meghan Markle and Prince Harry are visiting Australia in October for a great cause — they'll be traveling to Sydney for the 2018 Invictus Games.
Prince Harry launched the Paralympic-style Invictus Games in 2014 for wounded and recovering servicemen and women from around the world. The event was held in London in 2014, in Orlando in 2016, and in Toronto in 2017. The 2018 competition in Sydney will kick off on Oct. 20 and run through Oct. 27. On Friday, April 6, Meghan and Harry oversaw the U.K. team trials in Bath, England. Both of them were decked out in matching black polos embroidered with the Invictus Games logo as they met with athletes competing for spots in the field and track events, and the whole #twinning thing was just so cute that I can hardly take it!
Meanwhile, the competition to land a place in the event this year is really tough. More than 450 veterans will compete for 72 spots on the team.
According to People, the couple took in the sitting volleyball trials and met with one of the hopefuls — 38-year-old Michael Mellon, who had his lower left leg amputated after suffering a rugby injury while playing for the Royal Air Force in 2005.
"[Meghan] told me that she had never been to Australia, but was going to this year's event and was really looking forward to being there with Harry," he told the publication.
I'm not surprised Meghan is excited to head back to the Games — after all, the pair made their first public appearance as a couple at the Invictus Games in Toronto in September 2017.
As their May 19 wedding draws closer, the couple has shared several exciting details about their big day. For one thing, they revealed what the wedding invitations look like. According to the official Kensington Palace Twitter page, the invites will "follow many years of Royal tradition" and "feature the Three-Feathered Badge of the Prince of Wales printed in gold ink."
Check it out:
So elegant and classic! The couple has also shared the flavor of their wedding cake. It will be a lemon elderflower confection that will be covered with buttercream and decorated with fresh flowers:
TBH, I'm not 100 percet sure what elderflower is, but it still sounds amazing! Meghan and Harry also shared that their wedding flowers will include special white garden roses as a tribute to the prince's late mother, Princess Diana, and I'm not crying, you're crying!
Philippa Craddock is the lucky London-based florist who has been tapped to create the arrangements — which will also include wildflowers. Kensington Palace shared some pretty cool details about what the florals will look like on Instagram:
The displays in St George's Chapel will feature foliage from The Crown Estate and Windsor Great Park, and will use seasonal plants including branches of beech, birch and hornbeam, as well as white garden roses, peonies and foxgloves. The designs will reflect the wild and natural landscapes from which many of the plants will be drawn. The Royal Parks will also supply pollinator-friendly plants from their wildflower meadows.
Honestly, these flowers are going to be insane and May 19 cannot get here fast enough. I seriously can't wait to rejoice in every single detail of this special day!