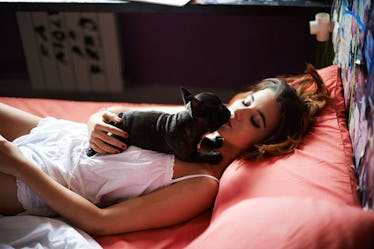 8 Things Your Dog Would Likely Say To You On Valentine's Day If They Could Talk
In a perfect world, candy would always be at a discounted price, and flowers would show up on your doorstep on Valentine's Day. The sun would be shining, you'd be wearing the cutest outfit for your date night, and it wouldn't be a hassle to get a reservation at a fancy restaurant. Oh, and your pup would be able to talk to you — duh! That's right, your fur baby would be able to recommend a good romantic comedy to watch or say, "I love you," while wagging their tail. Let's just pretend, shall we, and imagine what your dog would say on Valentine's Day if they could talk and show you some love.
Your pup is like your best friend. They're always there for you and ready to go on an adventure. They're excited every time you walk into a room and totally overlook concepts like "boundaries" or "too much information." (You've caught your fluff taking a nap on your bed or rolling all over your side of the couch too many times to count.) So, to be honest, this whole scenario would be a dream come true.
You'd be able to hear your dog's opinion on all the drama you've dished over the years. You'd be able to ask them what you should get for dinner and say, "Burritos or pizza tonight, Buster?" Lucky for you, I've already imagined what your dog would say to you on Valentine's Day, and it's more than a bark.