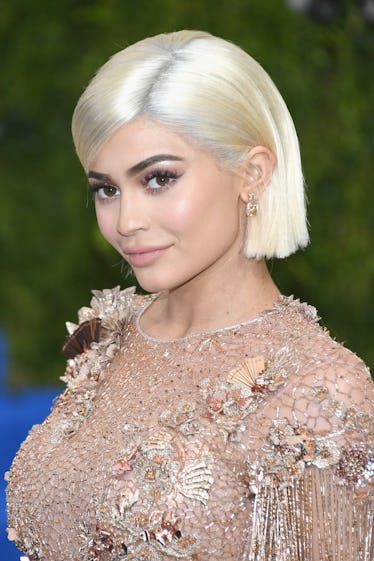 Kylie Jenner Reportedly Has A "Favorite Name" Picked Out For Her Baby
Dia Dipasupil/Getty Images Entertainment/Getty Images
Let's be honest: we all have favorite names that we'd totally name our kids when the time comes. I know that can't just be me. And apparently, celebs aren't any different. Case in point: our girl Kylie Jenner. That's right, apparently Kylie has a particular name she absolutely loves that she has picked out for her reported baby. So, what will Kylie Jenner name her baby? According to People, a source said that while she does know what she'd like to call her daughter, she is keeping her lips zipped on the actual name.
Update: On Sunday, Feb. 4, Kylie Jenner confirmed her pregnancy in an Instagram post. She welcomed a daughter on Thursday, Feb. 1.
Earlier: An insider tells the magazine, "Kylie has a favorite name for her baby girl, but isn't sharing." Ugh, c'mon, Kylie! You're killing us! Perhaps maybe we'll get at least one little hint as an early Christmas gift?
If it's anything like the last few months of Kardashian guessing games, I have a feeling that we unfortunately won't be getting any confirmation of a name – or confirmation that Jenner is even pregnant for that matter, because this family just loves to keep their fans on the edge of their seats.
So, while we don't know for sure what Kylie is all set to name her reported baby girl, we do know a few things for certain about the Kardashian sister.
Are you like me, taking every little thing that Kylie throws you and running wild with it, convinced that you'll be the person to crack the Kardashian-baby code?
Look, I'm not saying that Jenner confirmed that she's pregnant with her holiday decor, but I am saying that she's being pretty damn particular with her festive displays.
Thanksgiving at Kylie's was rather feminine, with a table surrounded by pink chairs and all-pink wall art:
And have you seen her Christmas decorations? Girl COME ON. A mammoth 20-foot tree is covered in giant pink baubles and is basically every little girl's Christmas dreams come true:
And let's take things one step further here, because who doesn't like stirring the pot? Many people found it odd that whoever captured the photo of Kylie's tree was conveniently missing from the photo.
One Instagram user, thenamecaitymillerwastaken, writes:
anyone else check the reflection of the ornaments to see if we could see if she's preggers or is that just me
Another user, jeanadi, pointed out the same thing as well:
Where's the reflection of the photographer??
So, an all-pink display with Kylie nowhere to be found. Is Photoshop at play here? Did Kylie edit herself out of the photo so the world can't see her baby bump?
She's recently been covering herself up on social media.
Kylie's never been shy showing off her Kardashian curves. And why should she be? Girl is a knockout.
I mean, can we just bow down for a quick sec:
But recently, her social media posts feature a lot less skin and a lot more facial close-ups. Not that we're complaining about her face (a damn masterpiece), but still. Her Instagram feed is definitely not what it used to be:
See what I mean?
So, look. While we can't know for sure that A) Kylie Jenner is 100% pregnant, B) Kylie Jenner is pregnant with a baby girl, or C) Kylie Jenner is pregnant with a baby girl, with a "favorite name" picked out, we do know that we can keep following along on each Kardashian's social media to see if we can spot any more klues.
If you ask me, my wager is on a Christmas morning reveal from Kim Kardashian, who will show the Kardashian 25 Days of Christmas holiday card in completion, featuring a pregnant Kylie and Khloé.
Hey, it's a Kardashian world. Anything can happen.