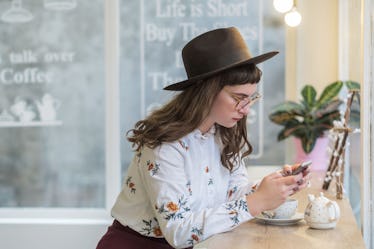 What To Do If You Wish Your Partner Would Text You Less, Because It Can Be A Lot
Everyone has their own set of texting habits. You may be on your phone constantly and reply to things quickly, but your partner may be the exact opposite. Finding that middle ground between your texting habits and your partner's can be difficult because you're each used to your own individual habits. Maybe you feel frustrated that your partner doesn't answer as quickly as you'd like, and they may feel like you reply too quickly, or vice versa. If you're overwhelmed and wondering what to do if you wish your partner would text you less, you've come to the right place. I spoke to three experts about how to go about approaching bae if you want them to text you less, but don't want to hurt their feelings when you tell them.
But before you decide to talk to your boo, "ask yourself why and what 'less' looks like," dating coach Diana Dorell tells Elite Daily. "Is it that you would rather just speak to them when they get home, if you live together for example? Is it interrupting your day?" Letting bae know the reason why is important because they may be more understanding if they can see where you're coming from. "It's easier to take if it's specific like, 'I know myself, and I get so easily distracted by my phone during the day, and I really need to focus on work...' versus something like, 'Why do you text me so much? It's annoying!'" she explains. So, instead of hurting them by telling them their texting habits are irritating you, here are four other things you could do.