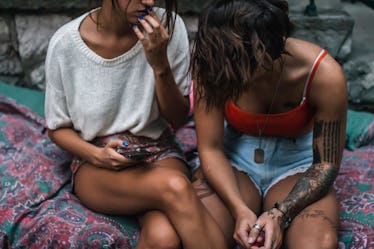 3 Signs Your Texting Habits With Your Partner Are Unhealthy, So Put Down Your Phone 
At this point, it's probably safe to assume that everyone spends some of their time each day texting. More often than not, these exchanges are centered around communicating need-to-know tidbits of information with our friends and partners. Unfortunately, it's all too easy to develop unhealthy texting habits that can become surprisingly harmful to your relationship, which is why it's important to ensure that your texting hasn't ventured into toxic territory.
Look, I'm definitely not trying to be a Scrooge here, throwing shade at texting. After all, like most people, I too love the satisfaction of cramming a 20-minute conversation into a few concise lines of information. The appeal of communicating with ease and on our own terms are just a couple of the many reasons why texting has become such an indisputably vital part of maintaining our relationships. It's just so easy. Need to tell your bae to pick up some eggs on their way home from work? Nine times out of 10, sending a text is going to be way easier than calling. So, how can you tell if the texting habits you and your partner have developed are hurting more than they're helping? Well, I spoke with Anita A. Chlipala, LMFT and author of First Comes Us: The Busy Couple's Guide to Lasting Love, to find out the signs your texting habits could use some improving.