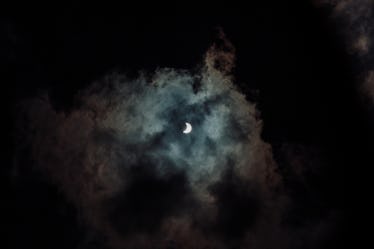 A Lunar Eclipse Is Coming & Here's The Best Time To Head Out For Sky-Gazing
luis felix/Stocksy
Let the countdown to the lunar eclipse begin. With less than a day to go until the main moon event, we're truly starting to feel some type of way. The suspense has us stoked and also oh-so-stressed. When the Wolf Moon came around on the first of the new year, we were refreshed and ready to take on whatever the universe had in store. Now, we're a month in and once again looking up to the stars for answers to all of our life questions, like what time is the 2018 lunar eclipse?
Like the moon, we all go through phases. So, if you're finding yourself feeling a little down — don't worry, it won't last for long. Odds are, your life is actually getting a little disrupted by the intense, interstellar show that's about to happen. There's no serious science to back this up, but it has been a common belief rooted in mythology that the moon can affect everything from our menstrual cycles to our most intimate relationships. Who knew? Our lunar love can make waves far beyond the ocean, apparently.
While it can be totally tempting to just curl up in bed and sleep the bad days away, you won't want to miss tomorrow's celestial occurrence. I love you to the moon and back, so I did the work for you. Everything you need to know is below, including when you should be looking up at the sky.
What time is the 2018 lunar eclipse?
The lunar eclipse will call for a bit of an early morning for most. It is expected to begin on Jan. 31, but depending on where you are in the world, you'll want to tune in at different times.
If you're watching from New York City, or anywhere along the East Coast, you'll only have a partial viewing party. According to Timeanddate.com, the partial eclipse will begin around 6:48 a.m. ET, but the moon will set shortly after. At full eclipse, our circle in the sky will be below the horizon line, and the sun will already be shining in full force (That's assuming it doesn't decide to snow. New England weather can be incredibly unpredictable.). In that case, you might want to book some last minute plane tickets to the West Coast to see the full show — and maybe also get some beach time under your belt. It's basically spring break, right?
The West Coast will have a slightly earlier morning, but oh boy will it be worth it. If you're celebrating the celestial event from the California side of the country, you'll want to be awake for 3:48 a.m. PT. Maybe pack some brunch and grab an extra cup of coffee when you're heading out to your planetary party. You won't want to sleep on this amazing sight. Extra shot of espresso, please!
And if you're on the other side of the world, possibly in the land down under, you unfortunately won't get to see our lunar love living its best life until the calendar turns to Feb. 1. Just after midnight, around 12:29 a.m. Melbourne time, the moon will be most hidden and the eclipse will be at its maximum. Grab an extra mimosa to show some spirit for space.
What makes this lunar eclipse so special?
Alright, so let's get to some simple science. You may have heard through the grapevine that this lunar eclipse isn't like the rest. It's actually just one part of something truly rad happening in our atmosphere, called the Super Blue Blood Moon.
Essentially, this means our moon is going to be bigger, brighter, and better than ever. It'll fall behind the Earth's shadow and join the dark side for just a few minutes, and return with a spectacular spectrum of color spread across its surface.
When will this happen again?
The Super Blue Blood Moon hasn't happened in 150 years, which is why I want to make sure you're awake and educated for its appearance. Another lunar eclipse also won't happen for another year, until Jan. 21, 2019. So, we'd say its worth waking up and posting a picture on social media with a cute moon caption.
When we're sad, we like our space sometimes. Misery loves company, they say. But, with this lunar eclipse, we're sure it'll be falling head over heels for the moon.