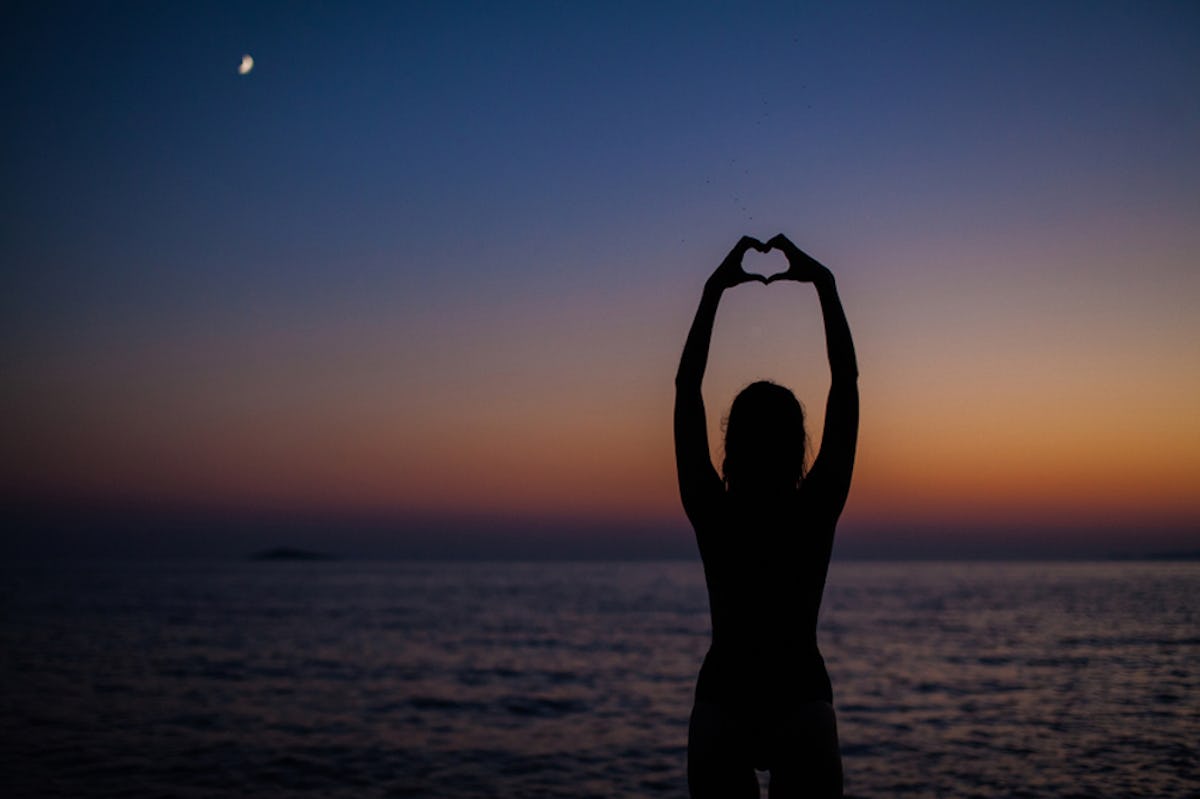 26 Moon Quotes For Instagram, So You Don't Space Out On The Perfect Post
Sanja (Lydia) Kulusic/Stocksy
The New Year has brought a busy schedule for our lunar love. On the first of the year there was the Wolf Moon, a bright supermoon that reminded us to go big or go home this year. (Living life to the fullest is just really not an option.) And at the end of the month, we'll see another big show from our favorite circle in the sky with the Super Blue Blood Moon. Naturally, it's time to start getting our social media ready. So, we've prepped a whole bunch of moon quotes for Instagram so that whatever picture you decide to post will be complete — like a full moon, if you will.
When it comes to our social media feeds, we should always shoot for the stars. There's no better feeling than when our profile is so on point. Sure, like the moon, we go through our phases. If you look at my Instagram, you'll see that summer was full of saturated teals and bright pinks, and now I'm sticking to something a little more neutral in my color schemes. But, it's all about finding that natural flow from one photograph to the next.
Sometimes, snapping pics of space, the greenery in your local hiking spot, or the succulent on your bathroom shelf can be a great way to break up those selfies you also tend to love. Many find a lot of inspiration in the natural world and will appreciate these shots just the same.
The moon, specifically, will always bring a weird sense of creativity, mystery, and perspective to your world (and your Instagram). There's a reason why the greatest writers and poets of our time have always found such inspiration and comfort just from looking up at the sky. The universe is a big place, and we like to think it has our best interests in mind. But, it's a beautiful feeling to know that the moon can make such waves, simply by existing. So you can too, right?
Make your social media a bit brighter and post a pic with one of these quotes when the next moon moment comes around.
1. "You have been mooned."
2. "How do you organize a party in space? You planet."
3. "My soul is in the sky." — William Shakespeare
4. "I will never be a morning person, for the moon and I are much too in love." — Christopher Poindexter
5. "Just like the moon, I go through phases."
6. "I love you to the moon and back."
7. "Stay wild, moon child."
8. "Not even phased."
9. "I like my (outer) space."
10. "Everyone is a moon, and has a dark side which he never shows to anybody." — Mark Twain
11. "Moonlight drowns out all but the brightest stars." — J.R.R. Tolkien
12. "We ran as if to meet the moon." — Robert Frost
13. "Go slowly, my lovely moon, go slowly." — Khaled Hosseini
14. "She walked in moon dust, and stars were sprinkled in her hair."
15. "With freedom, books, flowers, and the moon who could not be happy?" — Oscar Wilde
16. "Don't worry if you're making waves just by being yourself. The moon does it all the time." — Scott Stabile
17. "Born to chase the moonlight."
18. "Shoot for the moon, darling."
19. "She and the moon could always be found playing in the darkness." — A.J. Lawless
20. "Be both soft and wild. Just like the moon. Or the storm. Or the sea." — Victoria Erickson
21. "Three things cannot be long hidden: the sun, the moon, and the truth." — Buddha
22. "To the moon and back, remember?"
23. "Always remember we are under the same sky, looking at the same moon." — Maxine Lee
24. "Allow yourself to dance with life, just as the oceans dance with the moon." — Amadeus Wolfe
25. "The moon made me do it."
26. "Live by the sun, love by the moon.
Don't space out when it comes to creating the perfect post for social media. Just thank your lucky stars for the solid Instagram caption advice. (I guess that would be us. You're welcome.)
This post was originally published on Jan. 13, 2018. It was updated on Aug. 19, 2019 by Elite Daily Staff.