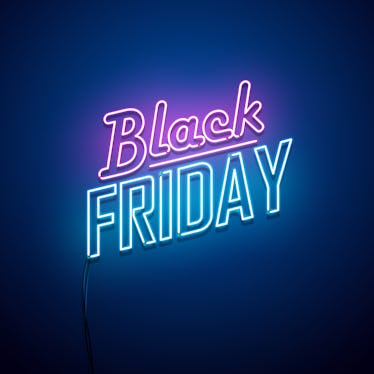 Black Friday Sales Start Way Before Thanksgiving, So Get Ready To Shop
Shutterstock
Black Friday deals are looming on the horizon, so don't get too cozy yet. If you plan to hit a few sales, you might want to plan out your day. Figuring out what time Black Friday starts is the first step to make sure you're all set for the biggest shopping day of the year. The deals start way before the holiday itself, so get ready.
Depending on which sale you're planning to hit, Black Friday start times vary. For those who are wanting to start early, there are plenty of stores kicking off the week of Thanksgiving with early sales. Online shoppers can take advantage of early deals with a couple of shopping options. Walmart is offering "Buy Now" deals for shoppers that can't wait until Black Friday, as well as a Pre-Black Friday sale that starts on Nov. 22 at 12 a.m. ET, while Amazon is doing an entire week of Black Friday deals starting on Nov. 22 in preparation for the lead up to Thanksgiving weekend. Macy's is also opening for an early Black Friday on Thursday, Nov. 21 through Tuesday, Nov. 26 for Black Friday preview deals. These are set to hit in stores and online, but hours will vary by store, so check your local Macy's to find out opening and closing times.
If you want to shop the main Black Friday sale events during Thanksgiving weekend, check out the hours below:
Target, Kohl's, Macy's, and Best Buy will all open at 5 p.m. local time on Thanksgiving, Thursday, Nov. 28. Best Buy and Target will take a break at 1 a.m. local time on Friday, Nov. 29 — reopening at 8 a.m. and 7 a.m. local time, respectively. Macy's will close at 2 a.m. local time on Nov. 29, reopening at 6 a.m. local time.
Walmart's Black Friday sales start at 6 p.m. local time on Thanksgiving. Walmart stores will follow regular store hours during the holiday.
Apple is likely starting sales later than Thanksgiving. In years past, the tech giant has sent out deals on Black Friday, and Apple Stores haven't opened much earlier than normal. Elite Daily didn't hear back from Apple regarding store hours on Friday, Nov. 29, but two New York locations said hours will be posted on the store website. DealNews.com reports Apple stores will likely open at 8 a.m. local time. To be sure, it's probably best to check with your local Apple store.
Amazon's Black Friday starts on Nov. 22 online, with a week of deals, but Thanksgiving and Black Friday will see a lot of new deals drop.
For online shoppers at Target, deals will start on Thanksgiving morning.
Kohl's online Black Friday begins at 12:01 a.m. CT on Nov. 28.
Walmart's online Black Friday starts at 10 p.m. ET on Wednesday, Nov. 27, and early sales begin Monday, Nov. 25 at 12:01 a.m. CT.
Did you know that you can find Black Friday & Cyber Monday coupons at the Bustle Coupons page? Bustle Coupons is a service provided by Groupon in collaboration with BDG Media, Inc. Each time you use a coupon or promo code from Bustle Coupons to make a purchase, Groupon and BDG Media, Inc. earn a small commission. This article was created independently from Bustle's sales department.