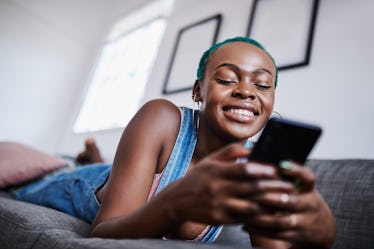 Here's What *Not* To Put In Your Dating App Profile
LaylaBird/E+/Getty Images
A clever reference to Parks & Rec, a funny quote, a meaningful tidbit about your creative hobbies, some insight into your personality type — these are all pieces of info that could very well lead other dating app users to swipe right on you. You may know what kinds of things can attract matches, but do you know what not to put on your dating app profile? Fortunately, I spoke with two experts to gather their input — because being aware of which types of things may hurt your game can obviously be just as valuable.
Your profile is supposed to provide an accurate, attractive snapshot of who you are and hopefully, entice fellow swipers to want to know more. Since what you write and the photos you upload can have a serious impact on your success, experts agree it's important to carefully consider what you do and don't include.
"First impressions are everything, on dating apps and in life," says Erika Ettin, dating coach and founder of A Little Nudge. "If you're looking for your dream job, would you just slop together a resume? It's the same thing."
There's no right or wrong way to approach your dating app profile, and the most important thing is to set yours up in a way that feels authentic to you. So, if you have a cute selfie you want to share, or you feel like it's important to share your political beliefs, then by all means do you, OK? However, if you're looking for a little extra guidance, here are some tips to take into account.