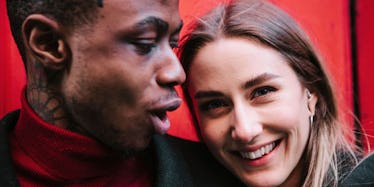 11 Women Reveal The Honest Truth About Whether They Care About Their Date's Height
You've probably heard at least one woman say they only like to date people who are taller than they are. There are plenty of reasons a person might feel that way: to feel protected, to have someone around to reach items on high shelves, to sit on someone's shoulders during a concert. Kidding aside, I combed the internet to see if women care about height — or if that's just a myth.
As you might guess, responses varied. There are some women who are as strict as can be about only wanting to date people a certain height or taller. Some are more lenient with this "rule," specifying that they just want to date someone taller than themselves. Then, there are those who would rather date someone their height, and then, of course, there are those who straight-up do not care.
I know I've seen my fair share of dating app profiles where people will share their height, followed by a nonchalant "if it matters." For me, I don't really care about someone else's height that much — I wouldn't really want someone nit-picking my body. Here's what others had to say on the subject.