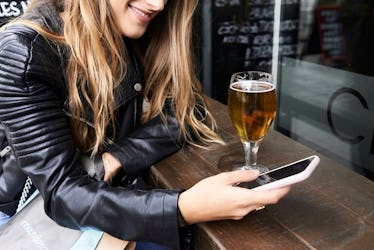 If You Feel Unsafe Meeting People From Dating Apps, Try These Tips
At this point, most of us have been on at least one date with someone we've met on a dating app, and if you haven't, then you've probably considered it. Although this shift in the dating climate has made it much easier to connect with like-minded people, it's also important to remember that meeting up with strangers who you've only exchanged messages with online can come with risks. Following safety tips for dating apps can help ensure that if you do end up on a date with someone who makes you feel uncomfortable, you're able to make a swift and safe exit.
I spoke to prominent LA-based relationship therapist Dr. Gary Brown to get some tips on how to stay safe when meeting people you've only interacted with online, because it's so much better to be on the safe side. "While most people you meet through dating sites are trustworthy, there is always the chance that you may encounter someone sketchy at best and potentially dangerous at worst," Dr. Brown tells Elite Daily. Since it can be tricky to tell if someone has bad intentions just from messaging with them, here are some precautions you should take if you do decide to meet IRL.