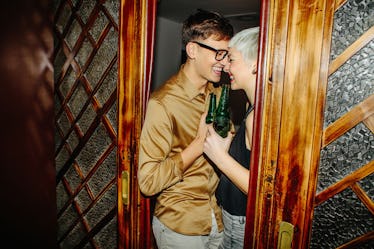 6 Super Helpful Ways To Stay Safe The Next Time You Hook Up At A Party
Hooking up with someone at a party can be really thrilling — but it's important to make sure you're as safe as possible when doing so. Here are some useful safety tips for hookups at college parties so you can maximize your fun and minimize your risk. It's totally valid to want both safety and sexual autonomy when hooking up with people. I talked with sex therapist Dr. Stefani Threadgill, host of the @SexWithDrJess podcast Dr. Jess O'Reilly, , and RAINN public speaker and survivor JoAnn Buttaro about ways that you can make sure you're as safe as possible when you hook up at college parties. Dr. O'Reilly says, "Remember that it's OK to hook up and it's OK to abstain."
If you or a friend is assaulted, seek out a trusted authority figure like your RA, medical professional, campus police, or your university's assault advocate office as soon as possible. You can also call RAINN's national sexual assault support hotline or your university's emergency counseling center line. The survivor of an assault is never at fault or to blame. There are numerous resources and people waiting to help you and, most importantly, try to remember that you are not alone.