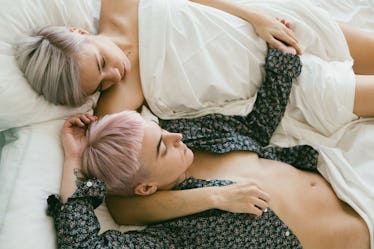 9 Incredibly Common Sex Myths That Simply Aren't True, According To Sexperts
There are a lot of misconceptions about sex out there. This is a result of a lot of different societal factors — like the fact that only 13 states in the U.S. require their sex ed to be medically accurate, and that there's a lot of shame surrounding open communication about sex. There's also sexism, homophobia, and heteronormativity to blame for a lot of myths when it comes to LGBTQ+ sex and women's bodies. No one can blame you for not being totally up to date on what's true and what's not.
When I first became sexually active, I had no idea that people with vaginas should pee after intercourse. As a result, I got a super painful urinary tract infection. I was upset that I didn't know something so important about sex that everyone else seemed to know instinctually. I later realized that plenty of people are in the dark about important sexual health information, which is why it's important to debunk some of the most common myths so that you can start having better, safer sex. Because the only thing that should be "tall, dark, and mysterious" about sex is your date — not your sexual health.