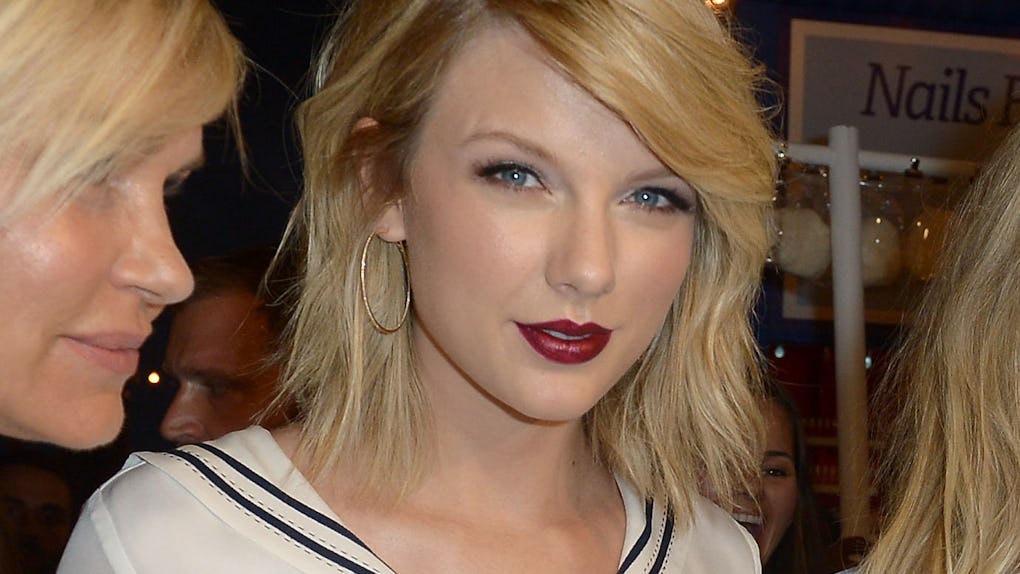 Gustavo Caballero/Getty Images Entertainment/Getty Images
What Is The Meaning Of "Blind For Love"? Taylor Swift Has A Secret Message For Fans
I can't decide if I'm frustrated with Taylor Swift's cleverness or just need to bow down to the kween. She has dropped SO MANY SUBTLE HINTS AND CLUES, I don't even know what to believe anymore. Like, it seems that literally everything has a meaning towards Reputation. Recently, the meaning of "Blind For Love" has been up for debate by fans on Twitter.
This detail from Swift's "Look What You Made Me Do" video went relatively unnoticed until people starting making their Halloween costumes (for real, though). The phrase "Blind For Love" appears on Swift's hooded sweatshirt that she wears while robbing Stream Co. The phrase is written in sparkly, green lettering below the shimmering tiger head. Swift opts to wear the sweatshirt with no pants and over-the-knee red boots. The whole look is super cute and memorable.
Since the original sweatshirt Swift wore is reportedly from Gucci and costs $2,300 — most people had to improvise and make their own. I think this is where the attention to detail came into play. People obviously saw the phrase before, but didn't start putting meaning behind it until recently. Keep in mind, the sweatshirt is made by Gucci, so this could be their doing.
However, Swift hasn't really given us any other choice besides to be THIS perceptive. If there's something we know about Swifty, she does nothing by accident.
Swift has exposed a few subtle clues about the Reputation album that has people on high alert. One of the biggest was when she dropped the name of her second single while announcing the name of her first.
Fans on Twitter noticed a little detail in Swift's announcement about her first drop from Reputation, "Look What You Made Me Do," that could definitely be interpreted as a sign that the song was coming.
Her Instagram about the single read,
...ready for it? New single #LookWhatYouMadeMeDo out now. Pre-order Reputation (link in bio) and find out about tickets and merch at taylorswift.com
Well, it's hard to say that was an accident. Swift was already promoting her second single while dropping her first.
Since then, fans seem to have a better idea of what to look out for. Needless to say, people definitely think "Blind For Love" will be a track title on Reputation.
Honestly, how perfect of a song title would that be for Swift? SO AMAZING, RIGHT? I guess we will find out soon enough.
Swift's fans have the same thoughts about the phrase "they're burning all the witches" in Swift's newest "... Ready For It?" music video. I swear, there is nothing you can sneak by Swifties.
The words "they're burning all the witches" were noticed by fans in the "... Ready For It?" video trailer. The phrase appeared as graffiti on a ledge during literally the last second of the 15-second teaser. The scene features Swift blasting some lightning out of her face while three robot soldiers are coming after her.
Like I said, it's literally one second and there are so many unanswered questions. While there are plenty of theories floating around about what this phrase means (most involving Kim and Kanye), many fans think that "they're burning all the witches" will be upcoming lyrics or a song title on Reputation.
Obviously, no one knows what Swift has up her sleeve. I'd be more frustrated if I wasn't so impressed. Like, how has NOTHING leaked. Maybe this means Swift is truly the witch.
Reputation comes out on Nov. 10 and my curiosity literally can't take it anymore. WHAT WILL COME NEXT? Knowing Swift, it can't possibly be a typical album drop — I'm sure she has far greater things planned. In the meantime, let's all look for more and more clues until we build an entire theorized Reputation tracklist. I'm here for it.
Check out the entire Gen Why series and other videos on Facebook and the Bustle app across Apple TV, Roku, and Amazon Fire TV.