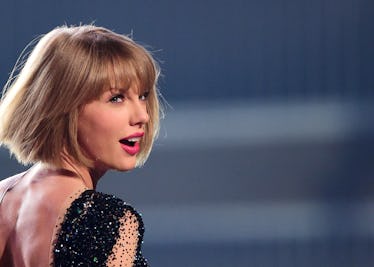 What Is The Meaning Of "All Eyes On Us"? Taylor Swift's Fans Have Questions
ROBYN BECK/AFP/Getty Images
Taylor Swift's album, Reputation, isn't even out yet and already fans are speculating about the songs. While Swift hasn't released a track list for the new album yet (seriously, what's taking so long?), a list of rumored tracks is making the rounds on Twitter that's definitely keeping everyone busy spinning theories. For example, what is the meaning of "All Eyes On Us"?
Without knowing the lyrics, it's not exactly easy to put much of the pieces together, but that's never stopped anyone from digging a little deeper and the fans definitely have been doing the research.
For one, "All Eyes On Us" was spotted as graffiti in the background of Swift's "...Ready For It?" music video. That, along with other graffiti clues had fans guessing that perhaps she was dropping hints about Reputation's track list.
With everyone pretty convinced that Swift spilled the beans about the song titles, fans started to try and figure out what exactly she'll be singing about on the new album. In the case of "All Eyes On Us," could Swift be referencing a relationship, either old or new?
In the case of Swift's past famous ex-loves, there were certainly oh-so-many eyes on them at all times. Remember all the photos snapped of Swift out and about with Harry Styles? Maybe it's another song all about Styles? Or Tom Hiddleston? Calvin Harris?
How about her new boyfriend, Joe Alwyn? Swift and Alwyn have managed to keep themselves out of the spotlight pretty well, as seen in these pics, where both have their hoodies up while they try their best to keep from being snapped.
Perhaps Swift is making a statement in "All Eyes On Us" about how, with Alwyn, she'd prefer to keep some of their private life... well... private. Maybe they don't want all eyes on them? It's got to be refreshing to maintain a shred of privacy when everyone has a front row seat for every turn you make in life.
While one fan noted of the "...Ready For It?" music video: "0:21 'All eyes on us' written on the wall. Taylor and Joe's relationship? #ReadyForItMusicVideo," another fan pointed out: "ALL EYES ON US it may be a reference of every relationship of taylor in the media all the time (calvin, tom, harry) ‪#ReadyForItMusicVideo." Well, yeah, there's that too.
Given that the song (?) may be about Alwyn, check out the possible meaning of "I Love You In Secret," also believed to be about keeping her relationship with Alwyn out of sight.
There are references to Alwyn and her track list in her "...ReadyFor It?" music video, so maybe she'll be sharing some more of her new relationship on this album?
Check out the graffiti that says "I Love You in Secret," with one fan noting: "'I LOVE YOU IN SECRET' is this a hint for a song or maybe the fact that Taylor n Joe was practically in hiding for so long!!! Hmmm."
While no one who was at Swift's Secret Sessions listening parties has dropped any hints about what they heard, there has been this tidbit floating around: "Taylor told fans at the secret sessions that ‪#Gorgeous is about her boyfriend Joe."
Whether or not that's true, or if that's just one small detail and there are many more songs about Alwyn on her album, remains to be seen.
Guess we all have to wait until Reputation is released on Nov. 10 to know for sure. Until then, keep those theories coming. Lord knows we'll be further dissecting every single detail once we get a listen to Swift's album.
Check out the entire Gen Why series and other videos on Facebook and the Bustle app across Apple TV, Roku, and Amazon Fire TV.