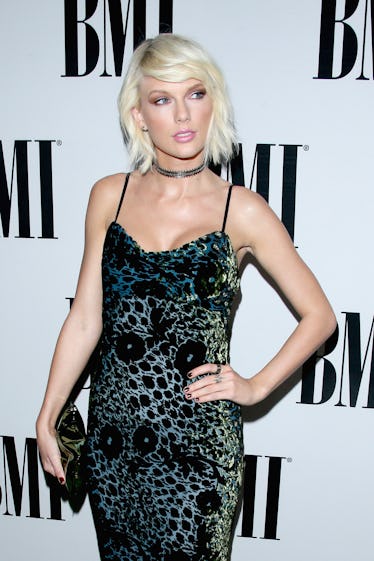 Taylor Swift's Secret Message "I Love You In Secret" Could Be About Her Relationship
Mark Davis/Getty Images Entertainment/Getty Images
Taylor Swift's new album, Reputation, will be here on Nov. 10, but until then, fans have been passing the time by trying to figure out what exactly we'll hear on the new album. Swift herself hasn't yet shared the track list (I'm impatiently waiting on that one), but a Reputation track list has landed on Twitter that has everyone talking. While there's plenty of dispute over whether or not it's legit, that hasn't kept fans from digging in to each song — particularly, what is the meaning of "I Love You in Secret"?
With a song title like that, you can only imagine the theory machine has kicked into high gear. Swift, notorious for her relationship-themed songs, has to be talking about one of the guys she's dated, right? Most fans believe this one could be all about her current boyfriend, Joe Alwyn.
On the surface, it's easy to connect the song with her current relationship. While we eagerly await the lyrics to confirm the theory, the title gives you plenty to go on: "I Love You in Secret" literally appears to point to being in love and keeping it secret.
If Swift's referencing an attempt to try to maintain a shred of privacy in a relationship, look no further than Alwyn. She has remarkably kept most details of their dating life pretty under wraps. That's not so easy to accomplish when you're Taylor Swift and fans are watching your every move.
That's not to say that she hasn't been spotted with Alwyn, but it does seem that she's been able to keep him out of the spotlight, kind of secret-ish, anyway. Other past romances have been anything but secret, with photos snapped of Swift back in the day with Jake Gyllenhaal, Harry Styles, and Tom Hiddleston, for example.
This go-around, Swift seems to be keeping all things relationship-related pretty hush and it's got to be a nice change of pace, but that doesn't mean she's not going to spill all in a song about her new guy (or several songs, as the case may be). Or call him out subtly in music videos (the "...Ready For It?" video had some sneaky Alwyn references).
One of those blink-and-you-might-miss-it video moments was a graffiti sprayed wall reading "I Love You in Secret." A fan questioned on Twitter: "'I LOVE YOU IN SECRET' is this a hint for a song or maybe the fact that Taylor n Joe was practically in hiding for so long!!! Hmmm."
Are all of these graffiti references about Alwyn? Take a look at more:
Then there are always those, sworn to secrecy, who managed to hear Swift's whole album at one of her Secret Sessions. There has been very little spilled from those sessions, but some folks know some big details and I can only imagine they've got the total inside scoop about the inspo behind "I Love You in Secret." None of these Secret Session folks are dropping so much as the tiniest of hints, however.
A couple of Swift's famous friends have given super vague clues about what to expect on Swift's new album, with Ed Sheeran noting: "Yeah, I think the songs are great, I think the visuals, she's really putting everything into the visuals as well, the visuals are really impressive. I think people will like the album!"
Hrumph. Not much there.
Selena Gomez also had the pleasure of hearing Reputation and she revealed:
Yeah! For sure. I obviously love her so much and I want her to do what she does and she's killing it and it's everything you would want and more. So, [I'm] very proud, and obviously [a] major fan.
Wow, no one is leaking anything. That only makes people's imaginations run wild, but it's fun to check out the theories and then, once the album comes out, see who was right.
Here's one tidbit that came out of the Secret Sessions about Alwyn: "Taylor told fans at the secret sessions that ‪#Gorgeous is about her boyfriend Joe." Could that mean "I Love You in Secret" is also about Alwyn?
The anticipation is destroying fans, but all we can do is wait.
Check out the entire Gen Why series and other videos on Facebook and the Bustle app across Apple TV, Roku, and Amazon Fire TV.