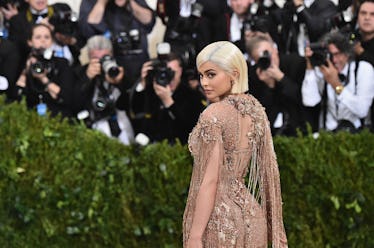 What Is Kylie Jenner's Baby's Net Worth? Stormi Will Make A Pretty Penny
Mike Coppola/Getty Images Entertainment/Getty Images
Not only has Kylie Jenner finally confirmed the rumors of her pregnancy, but she's actually opened up and let us into her life to meet her new daughter Stormi. Jenner shared a photo of her baby daughter, as well as her first name, in an Instagram post on Tuesday, Feb. 6. Call us shallow, but I think we all have one major question on our minds right now: What is Kylie Jenner's baby's net worth?
Look, I'm aware that Stormi is literally just 5 days old at this moment, which means technically, she doesn't have a net worth — not yet, at least. I'm just putting the question out into the universe, because a) you know you were wondering, too, and b) how else can we vicariously live our lives through the Kardashian family unless we know every single thing about them?
Besides, the drama that's led up to Kylie Jenner finally confirming her pregnancy has been borderline impossible to escape, even if you're not someone who "keeps up" with the Kardashians, so to speak. So, now that we know for sure that, not only was Kylie Jenner pregnant that entire time, but that she's ALREADY HAD THE FREAKING BABY, it's hard not to get greedy and want every single detail about the whole thing.
Naturally, Twitter pretty much exploded once Jenner shared the photo of little baby Stormi, and officially revealed her name.
TBH, some people were a bit let down, as they'd spent quite a lot of time coming up with different theories about the baby's name, only to find out they were dead wrong.
To say the least, when you're born into the Kardashian/Jenner family, you are quite literally entering into an empire. Oh boy, Stormi has so much to learn, you guys. It's going to be such a trip to watch her grow up in this star-studded family.
Now, let's get into the hairy details of Stormi's potential net worth, because DAMN Y'ALL, it might be huge.
As I'm sure you know — or could at least take an educated guess about — Kylie Jenner makes freaking bank. She was obviously born into a pretty wealthy family as it is, but make no mistake: Jenner's a self-made woman all her own. Her lip kit empire is unstoppable, and seems to get bigger and bigger by the freaking day. But aside from Kylie Cosmetics, homegirl has the Kendall + Kylie clothing line, a Puma sponsorship, her show Life of Kylie on the E! channel, and The Kylie Shop. Put all those endeavors together and, according to a June 2017 TIME article, Jenner's worth $41 million. Damn, girl.
But of course, while baby Stormi remains, well, a baby, her net worth is essentially determined by the combined income of her parents. So, Kylie Jenner boasts over $40 million in her net worth, but what's Travis Scott's net worth?
While Scott doesn't quite make the same kind of bank that Jenner does, he's still got a pretty penny to his name. While an exact number isn't quite clear, Scott is likely worth at least a few million, possibly ranging from $4 million to $8 million, or even higher. And honestly, I have to give credit where credit is due, because Scott has climbed the totem pole in his industry pretty damn fast. It was 2012 when the 25-year-old rapper got his first major label deal with Epic Records, and later that same year, he scored a record deal with Kanye West's G.O.O.D. Music. About a year later, in April 2013, Scott moved on to T.I.'s Grand Hustle Records. His debut album Rodeo didn't come out until 2015, but the hit single "Antidote" quickly made the rounds and earned a top 20 spot in the Billboard music chart.
Side note: I 100 percent still love that song.
So, if we could do a bit of light math for a moment, taking Scott's and Jenner's individual net worths into account, that would mean baby Stormi's worth roughly $50 million or so as of right now (*shudders at how broke my 24-year-old self is in comparison to a 5-day-old baby*).
And honestly, who knows what Stormi will grow up to accomplish?! For now, all we know is that she's got two amazingly successful parents to help her weather the ~storm~ of life (I'm sorry, I had to) and help her achieve anything and everything her heart desires.