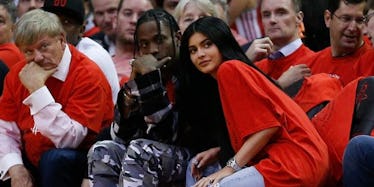 Travis Scott's Net Worth Is Actually Not As High As You May Have Thought
Bob Levey/Getty Images
It's the first day of fall, and it's the first day of knowing that Kylie Jenner, 20, is reportedly pregnant with Travis Scott's baby. (Elite Daily reached out to Jenner's and Scott's teams, but didn't hear back by time of publication.) TMZ reports that Scott has been telling his friends about the pregnancy. This is definitely not confirmed, but interesting nonetheless. Additional kicker: Jenner and Scott have only been together for five months. Houston-born rapper Travis Scott rose to fame in 2013 with his mixtape Owl Pharaoh and was on Forbes' 2014 list of "Hip Hop Cash Princes." But what's Travis Scott net worth?
According to the internet, Scott could be worth anywhere from $4M to $8M and, honestly, maybe more. Scott signed his first major label deal with Epic Records in 2012. Then, by November of the same year, he signed with Kanye West's G.O.O.D. Music. By April 2013, Scott had signed a record deal with T.I.'s Grand Hustle Records. For someone who has worked with such heavy hitters, it's a surprise that Scott is not worth more. 2013's Owl Pharaoh was Scott's full-length project, but his debut studio album Rodeo was released in 2015, and its single "Antidote" made it to the top 20 in the Billboard music chart.
In 2016, Travis Scott, following the lead of Frank Ocean's Blonde (or, you know, blond, if you are feeling particular), released his album Birds in the Trap Sing McKnight exclusively on Apple Music and debuted at number one on the Billboard charts, selling 53,000 copies, according to Nielsen music, and garnering more than 50 million streams in the first week. Post-Birds in the Trap Sing McKnight success, Scott signed a deal with Universal. More recently, Scott performed with Thirty Seconds To Mars at this year's (weird AF) 2017 MTV Video Music Awards.
In April 2017, Scott and the Kylie Cosmetics founder began dating after being spotted together at Coachella. I feel like the inundation of flower crowns on my Instagram feed was not all that long ago, so the fact that these two are reportedly expecting a child is insane to me. (Then again, I don't keep up with the Kardashians at all.) Scott and Kylie's announcement came right before the airing of Keeping Up With The Kardashians' 10th anniversary special, airing this Sunday. Props to Kris Jenner for continuing to be a business monster. Also, poor Tyga, am I right? They legit split up in April, so... very little turnaround to say the least. But also, you do you, girl.
According to TMZ, Tyga allegedly posted a now-deleted Snapchat of a screenshot of the announcement, with text over it that read, "Hell nah thats my kid," followed by four devil emojis.
Hm. Could just be a jealous ex, but also not a great look. A source claimed to People magazine that the couple is excited... but also, why? Jenner is super young, and the couple has been together for an incredibly brief time. That said, I'm not one to judge. When I was 20, finding out I was pregnant would have been a nightmare, but I was not born a Jenner and definitely did not have access to every resource and nanny in the world.
If the lip kit guru and her talented boo are truly happy, I guess we should all be happy for them. Also, if my sister was Kendall, I would try to one-up her in one way, by... having a baby first? Who the F knows. Celebrity gossip is nothing more than that — celebrity gossip. If the reports are true, I hope that this baby is healthy and happy and loved, and wish the couple all the best as they embark on the journey of parenting that just seems like a massive mountain to climb to me. Ms. Negativity is signing off now. Cheers to the reportedly expectant couple!