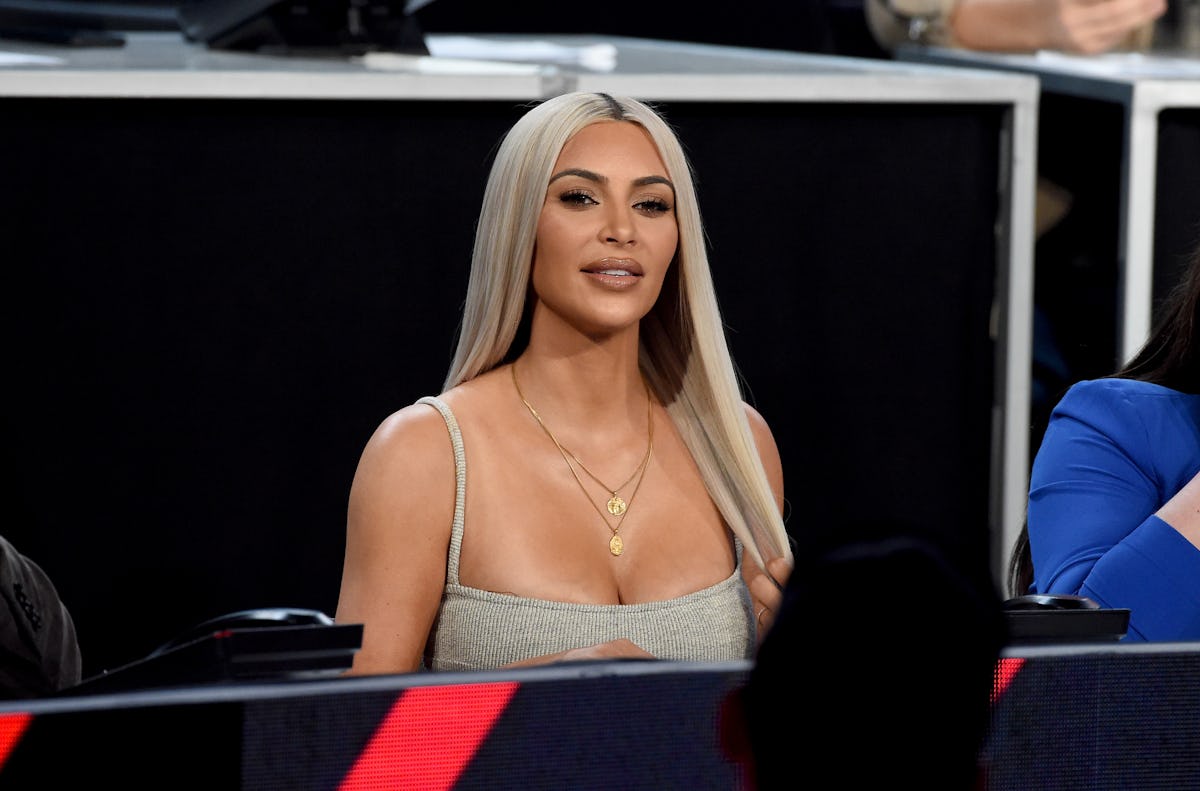 What Is Kim Kardashian's Third Baby's Net Worth? She's The Newest Member Of An Empire
Kevin Winter/One Voice: Somos Live!/Getty Images Entertainment/Getty Images
Kim Kardashian and Kanye West have welcomed another baby into the world via surrogate, and it's so exciting. I swear, the news has united us all on social media. Whether you love them or couldn't care less, there is no denying the Kardashian-West family is FASCINATING. The in-depth look Kim and Kanye give us into their lives through social media and Keeping Up With The Kardashians exposes tons of interesting tidbits about their family. One thing that may be surprising to find out is Kim Kardashian's baby's net worth. It's honestly shocking.
Kardashian said in a statement, "January 15, 2018, 12:47 a.m. 7 lbs 6 oz. Kanye and I are happy to announce the arrival of our healthy, beautiful baby girl. We are incredibly grateful to our surrogate who made our dreams come true with the greatest gift one could give and to our wonderful doctors and nurses for their special care. North and Saint are especially thrilled to welcome their baby sister. Love, Kim Kardashian West."
It's no mystery that Kim Kardashian and Kanye West are worth a lot of money. Like, A LOT. According to In Style, in 2016, Kanye's net worth was up to a staggering $145 million. Kim's net worth will also make you feel light-headed — Mrs. Kardashian-West is worth a whopping $175 million, according to Time.
As of now, Kim and Kanye's new baby technically doesn't have a net worth — just really wealthy parents. This doesn't mean that the Kardashian-West kids will be left wanting. In 2015 (this was before Saint was born), it was reported by Huffington Post that Kanye reportedly pledged to give North $10 million when she turns 21. I remember getting a $3 pint of beer when I turned 21, but, you know, same thing. Needless to say, the Kardashian-West children will be absolutely fine financially.
Whoever the surrogate is also made a good chunk of change. While Kim never spoke directly on how much the surrogate would be compensated, TMZ released a few shocking figures. As written by Romper,
TMZ reported [Kim and Kanye] would have to pay a deposit of $68,580 to the surrogacy agency before a surrogate was found. After that initial deposit, the couple would pay 10 monthly payments of $4,500 each, adding up to $45,000 by the end of the pregnancy. Along with these standard expenses, the couple would also be expected to pay an additional $5,000 per child if the surrogate carries more than one child. If, for any reason, the surrogate loses any of her reproductive organs during the process, she will receive an additional $4,000.
Obviously, the surrogate had a long list of dos and do nots during the pregnancy, according to TMZ. Like all pregnant women, the surrogate was not allowed to smoke, drink, or do drugs. There was also a handful of other things, like caffeine and hair dye, that was supposed to be avoided. As we know now, the new baby is here, and she seems so happy and healthy.
Kim's openness with the surrogacy journey has given people an even more personal look into their lives. The process has definitely been a long one. Kim has stayed extremely open with fans about the experience. She spoke candidly about the difficulties that come along with it.
While doing press for KKW Fragrance in November, Kim told Entertainment Tonight,
You know, it is really different. Anyone that says or thinks it is just the easy way out is just completely wrong. I think it is so much harder to go through it this way, because you are not really in control. And, you know, obviously you pick someone that you completely trust and that you have a good bond and relationship with, but it is still ... knowing that I was able to carry my first two babies and not, you know, my baby now, it's hard for me. So, it's definitely a harder experience than I anticipated just in the control area.
Although it was a "different experience," Kim remained thankful.
I think it is definitely a different experience and I am blessed that I am able to do this, and technology is the way that it is that we can do this. But it is still a process that you need to digest. Even the fact that it is happening -- and you do forget sometimes -- because I think when you are pregnant, by the time you have the baby, you are so prepared and so ready, and now I am just like, 'Oh my God I am going to freak out because I'm not ready and I'm not prepared,' but it'll just all come into place.
Kim letting fans in on what she was going through made her so relatable and seem down to earth. Now that the new baby is officially here, I'm sure Kim and Kanye are so thrilled. Congrats to the Kardashian-West clan!
Check out the entire Gen Why series and other videos on Facebook and the Bustle app across Apple TV, Roku, and Amazon Fire TV.