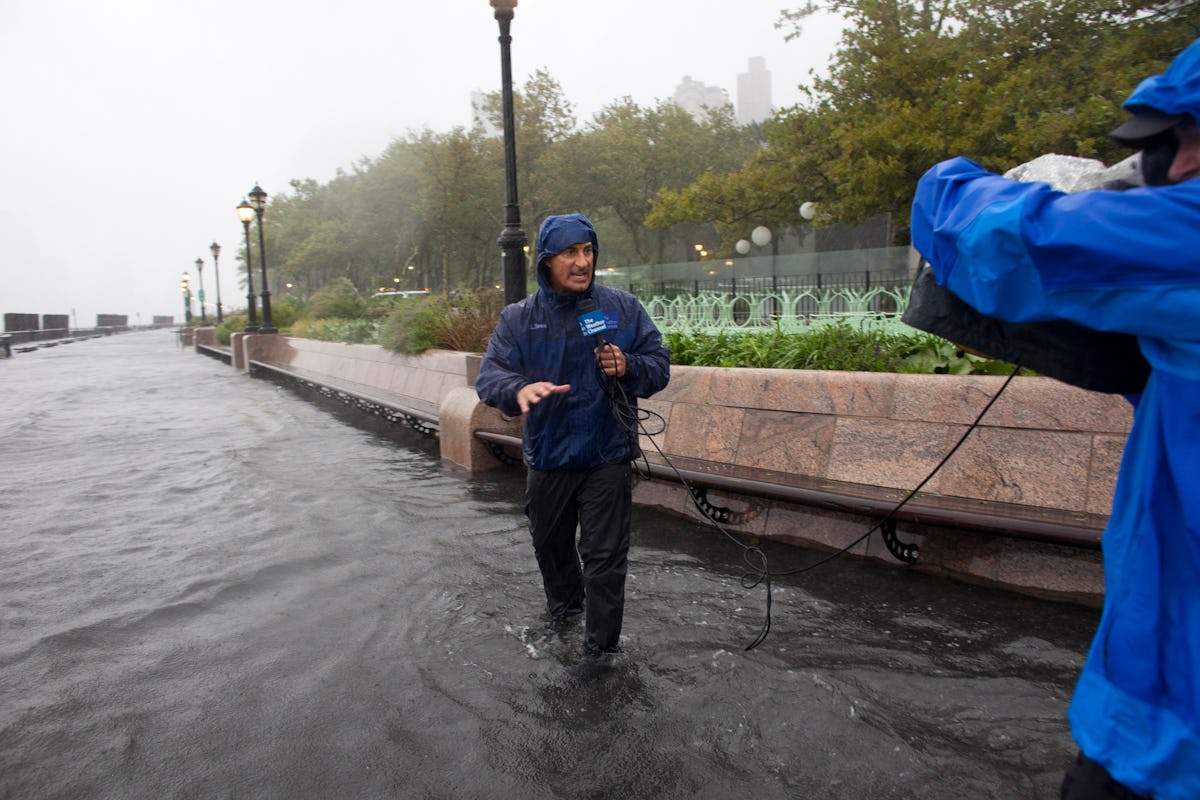 Hurricane Nate Was Downgraded To A "Tropical Depression," But Is Still Causing Damage
Handout/Getty Images News/Getty Images
In recent weeks, the U.S. and surrounding areas in the Caribbean have been subjected to horrific weather, huge devastation, and sadly, the loss of life. As residents in locations along the Gulf Coast braced themselves for a hurricane over the weekend of Oct. 7, the conditions diminished into a tropical depression, but there is still cause for concern. Hurricane Nate weakened, but can still cause damage.
On Oct. 7, Nate had reached the mouth of the Mississippi River in southeast Louisiana and brought along winds of 85 mph, CNN reported. Hurricane Nate was a Category 1 storm when it made landfall early on the morning of Sunday, Oct. 8 outside Biloxi, Mississippi, but was downgraded to a tropical depression as it made its way toward Alabama and Georgia, bringing heavy rainfall and winds around 35 mph with it, according to The New York Post. Before transitioning into a tropical depression, the storm caused flooding and power outages along the Gulf Coast. The storm surge caused debris to pile up near Biloxi's main beachfront and flood one of the area's surrounding casinos.
Up until Monday, Oct. 9, Nate is still predicted to continue, though in a weakened state. "Nate's center will continue to move inland over Mississippi and across the Deep South, Tennessee Valley, and central Appalachian Mountains through Monday," according to a hurricane center advisory, CNN reported. Those areas could experience up to six inches of rain, and some areas might even get up to 10 inches. There was also concern about potential isolated tornadoes in Florida's panhandle, eastern Alabama and northern Georgia.
As of Oct. 8, many people in the region are without power — roughly 50,000 in Mississippi, 59,000 in Alabama, and 10,000 in Florida's panhandle. Though it sounds substantial, the storm is expected to be less catastrophic as it moves further inland. "A turn toward the northeast with an increase in forward speed is expected during the next couple of days," the weather advisory further stated, according to CNN, and also added that and Nate would "continue to quickly weaken as it moves farther inland."
Images of residents and authorities hand packaging sandbags and shutting down tunnels made the rounds on social media before the weekend storm, along with warnings from government officials to heed mandatory curfews and evacuate if necessary. It was definitely something that made many concerned, especially in light of the fact that we seem to have been experiencing natural disasters continuously over the past several weeks.
Warnings and advisories might have been discontinued in the U.S. since the storm weakened, according to CNN, but we can't ignore the devastation Nate caused in Central America.
At least 28 people were reported killed by the storm earlier this week across Costa Rica, Nicaragua, and Honduras. Many people had to be rescued from mudslides and floodwaters, so it definitely made a horrifying impact on plenty of communities.
Between this devastation and others — caused by wildfires, hurricanes, earthquakes, and horrific acts such as the Las Vegas massacre — people are beginning to wonder what this all means and how to recover after these horrible events. Elite Daily has put together guides on how you can lend a hand after these natural disasters and violent crimes. However, be wary of where you donate your money or efforts — If a foundation seems new and not many people are responding to it, try looking elsewhere. Click here to learn more about scams that arise during these times.
For the first time in 12 years, four hurricanes have made landfall in the U.S. in one season, according to The Weather Channel. We need to seriously consider how to help ourselves and our neighbors during such a difficult time.