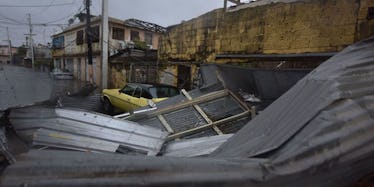 This Is What You Can Do To Help Puerto Rico After Hurricane Maria
JOSE ROMERO,HECTOR RETAMAL/AFP/Getty Images
It's been a terrible few weeks for the Caribbean. First, Hurricane Irma devastated the region in the early days of September, and now, Hurricane Maria is coming hard on its heels. And while the U.S. territory of Puerto Rico was spared a direct hit by Irma, it wasn't so lucky with Maria. The double dose of devastation is urgently requiring the rest of the country and world to figure out how to help Puerto Rico.
Maria was the first Category 4 hurricane to hit Puerto Rico in 85 years, and it wreaked havoc. The island of more than 3 million people got slammed with a direct hit as the storm made landfall at Yabucoa, in the southeast portion of the island, on Sept. 20, staggering under winds of up to 155 miles an hour and "catastrophic" flash flooding. Forecasters expect that Puerto Rico will see about two feet of rain by Friday, per The New York Times. Footage of the storm's landfall is terrifying in its intensity.
And the damage is just as bad. As of shortly after 9 p.m. ET on Sept. 20, the entire island was without electric power, according to the BBC. Governor Ricardo Roselló issued a curfew of 6 p.m. ET to protect people from accidents due to fallen electrical wires or other dangers. San Juan Mayor Carmen Yulín Cruz told NBC News while fighting back tears that "the Puerto Rico and the San Juan that we knew yesterday is no longer there."
She added that she worried for residents. "I'm just concerned that we may not get to everybody... in time," she said in a choked voice.
Gov. Rosselló has asked President Trump to declare Puerto Rico a disaster zone, according to a tweet he posted late on the morning of Sept. 20. The White House released a statement on its response to the hurricane:
The President continues to direct all necessary Federal resources to protect the people of the United States territories affected by Hurricane Maria and to support response and recovery efforts with respect to Hurricanes Harvey and Irma. He and the First Lady send their thoughts and prayers to all those in harm's way.
The administration has declared Puerto Rico an "emergency," a step below "disaster," a categorization that would open more federal funding for recovery, per The Guardian.
After the double disaster, there's more of a need than ever to step in and help.
If you're not in the area, often the best way you can help is with a financial donation. Unidos Por Puerto Rico is a hurricane recovery initiative created by the office of Puerto Rican first lady Beatriz Rosselló and partners, and is organizing a benefit to raise money for victims of both Irma and Maria according to a translated version of its website. The organization has also been backed by the Puerto Rico Federal Affairs Administration on Twitter.
There's also the Puerto Rico based nonprofit ConPRmetidos, which is raising money for victims of both Hurricanes Irma and Maria via the humanitarian division of IndieGoGo. The fundraising page, which as of Wednesday night had reached almost $34,000 of a $150,000 goal, reads,
All donations to this fund will exclusively support the victims of the catastrophic Hurricane María and Irma in Puerto Rico and provide relief and aid the communities affected by this disaster. ... We anticipate the funds will be used first for immediate needs of food, shelter and water and then transition to long term recovery efforts.
Established nonprofit Save The Children has also created a fundraising page dedicated to Hurricane Maria recovery in Puerto Rico. You can note that the organization is also pretty highly rated by watchdog group Charity Navigator, too — almost 90 percent of the charity's money in a given year is spent on the programs and services it provides, so you can be sure that your money is actually going to help people.
Similarly, UNICEF is already on the ground to help out with relief efforts and is accepting donations.
And of course, there's always the old standby of donating to The Red Cross. You can donate financially, or, if the body is willing but the wallet can't be, you can always look up a blood drive in your area.
Wherever you choose to donate, you can always run the organization through Charity Navigator, which vets charities and humanitarian organizations for legitimacy and use of money. And if you want to avoid all that, though it'll be harder to donate physical goods, there are also a few organizations working on that.
The Puerto Rican Leadership Council of South Florida will be accepting donations of nonperishable food, diapers, bottled water and clothing on Friday, Sept. 22, in Miami, according to The Miami Herald. Donations will be accepted at a few locations around the city, and the Herald has a list of drop-off sites.
If you can't bring things over there, though, don't worry.
USAID's Center For International Disaster Information notes that monetary donations are way more helpful than physical ones. "Financial contributions allow professional relief organizations to purchase exactly what is most urgently needed by disaster survivors, when it is needed," they write. On the other hand,
Many Americans respond to disasters by collecting food, clothing and household items for people in need. It is not unusual for community and civic groups to collect thousands of pounds of material. These donations require transportation — which is expensive and logistically complicated.
The website also notes that donating cash avoids the waste of time and effort that goes through sorting through inappropriate or useless gifts, but it does provide extra support to local communities — if you have to buy supplies locally, it supports local businesses and economies and can help the whole area get back on its feet faster.
However you choose to help, every little bit counts right now. Our thoughts are with the communities devastated by these disasters.