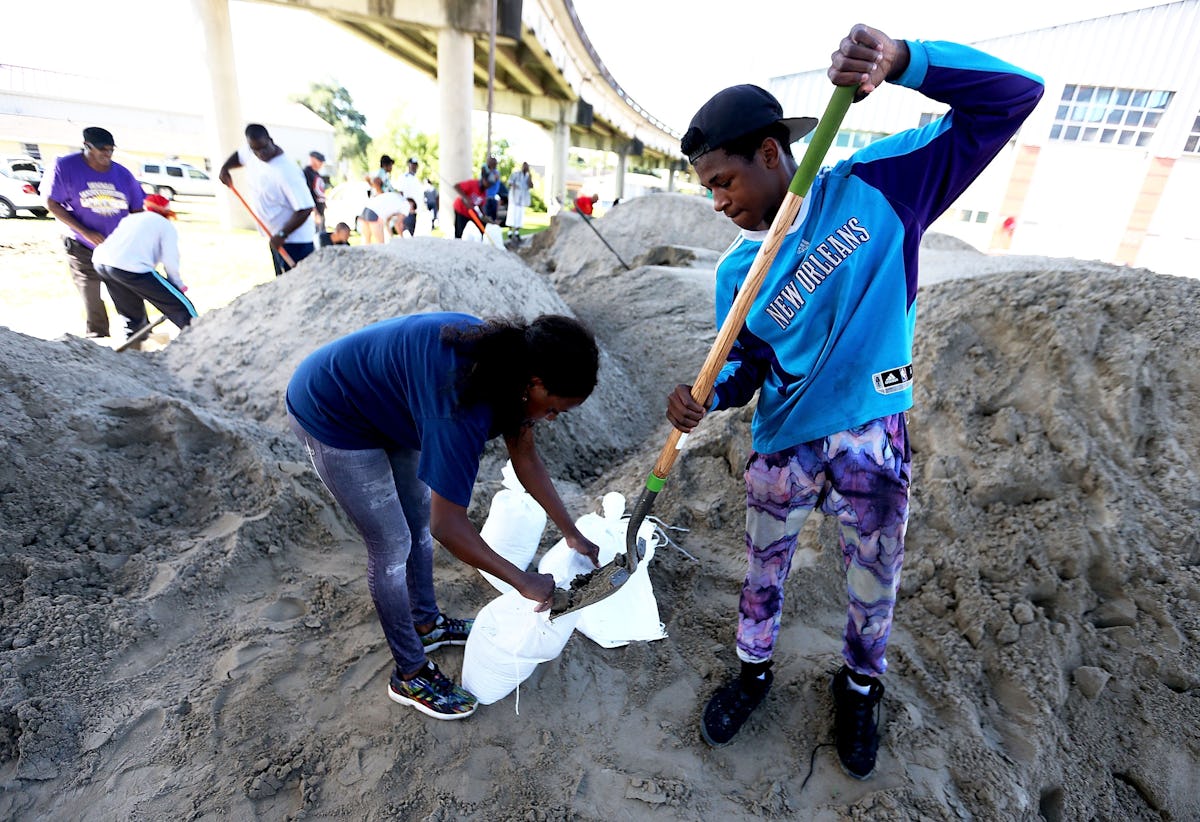 Hurricane Nate Is Predicted To His These States In The U.S. & Citizens Are Preparing... Again
Sean Gardner/Getty Images News/Getty Images
The United States is about to get hit by a hurricane... again. In the past three months, three hurricanes – Harvey, Irma, and Maria – have slammed down onto mainland, causing death and catastrophic damages. And now, the path of Hurricane Nate is predicted to hit the gulf coast this weekend, with Louisiana, Mississippi, and Alabama already preparing themselves for the Category 2 storm.
As of Sept. 7, Hurricane Nate is brewing 345 miles from the Mississippi River, according to ABC News. The storm is due to make a landfall southeast of New Orleans overnight, packing a windspeed of 80 mph. States of emergency have already been declared in Louisiana, Mississippi, and Alabama. ABC News meteorologist Daniel Manzo called the storm "dangerous," explaining,
It has the potential to bring life threatening storm surge to parts of the Gulf coast from Louisiana to the Florida Panhandle.
The strongest winds from Nate are expected to be directly north and east of the center of Nate. Tornadoes are a real concern as Nate comes ashore. Several quick spin-ups are expected directly northeast of the center of Nate.
Manzo added that there's a risk of flash floods in parts of Tennessee and Ohio Valley, where rain could reach up to six inches throughout the weekend. Other areas might expect ten inches of rain, including the southern Appalachians and the eastern Tennessee Valley, according to CNN. Strong winds could also down power lines from Florida to Louisiana, leaving 1 million people without electricity.
Donald Trump has ordered Federal Emergency Management Agency (FEMA) to organize disaster relief in Louisiana. The very same area was hit by Hurricane Katrina in 2005, which left 1,800 people dead and caused more than $100 billion worth of damages.
Hurricane Nate has already claimed the lives of 22 people, per BBC News. At least eight people were killed in Costa Rica, 11 in Nicaragua, three in Honduras, and one person in El Salvador.
Almost 400,000 people are currently living without running water in Costa Rica and thousands are stuck in shelters.
Meanwhile, preparations are currently underway in New Orleans. The city has scrambled to fix their drainage system, which caused floods back in July and August. The Wall Street Journal reported that, as of Oct. 7, 92% of the city's drainage system are now operating.
Still, there are concerns.
Per theWSJ, Louisiana emergency management official Jim Waskom said,
High water is already a problem in many southeast Louisiana parishes. High tides and easterly winds in recent days are impacting some areas ahead of the storm. Those conditions may worsen over the weekend.
Louisiana Gov. John Bel Edwards added that Nate should be taken very seriously and that the storm "has the potential to do a lot of damage."
"No one should take this storm lightly." Edwards said, according to USA Today. "We do want people to be very, very cautious and to not take this storm for granted."
Alabama Gov. Kay Ivey also emphasized the importance of taking precautions, saying during a press conference on Oct. 6 that everyone should "prepare and remain vigilant – this is serious business."
"By Saturday noon, you should be in your safe place," she added.
Mississippi Gov. Phil Bryant issued an executive order, which will allow for the use of the state's National Guard. He said during a briefing on Oct. 6,
If you are in an area that has flooded, I would recommend you evacuate that area until the storm has ended and the water has receded for your own personal safety and for the safety of the first responders that will be responding in the event you are trapped.
Images of residents and local authorities hand packaging sandbags and shutting down tunnels have hit social media, along with stern warnings from government officials to heed mandatory curfews and evacuations orders.
Here's hoping this storms is over as quickly and painlessly as possible. Stay safe, everyone.