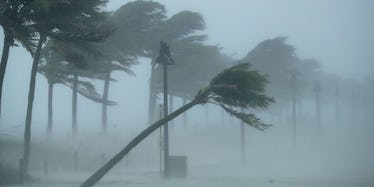 This Is How You Can Help Hurricane Irma Victims Recover After The Storm
Chip Somodevilla/Getty Images
Everyone has Florida on their minds on Sept. 10, as nearly the entire Sunshine State was placed under a hurricane warning as Hurricane Irma approached. About 2 million homes and businesses are currently without power, according to the Associated Press, thousands of residents are displaced in shelters, and those who did not evacuate are facing severe conditions such as 130 mph winds. Needless to say, it's quite a frightening situation for the whole country. Even if you're nowhere near the storm, there are plenty of ways to learn how to help Hurricane Irma victims during this difficult time.
Floridians were warned that Irma would, in fact, bring difficulty. "This is a life-threatening situation," the National Hurricane Center said, according to CNN. "Near the coast, the surge will be accompanied by large and destructive waves." Palm trees are snapping in half, winds are gusting, the rain is torrential, cranes in some Miami areas have collapsed, according to the AP — it's dangerous for all in the area.
Gov. Rick Scott pleaded with residents on CBS This Morning to think of their loved ones when preparing for Irma. He said,
Think about your life, think about your family's life. But five to 10 feet of storm surge in the southern part of the state — think about that. That's going to cover homes. We're not a high state. We don't have mountains in the state.
Regardless of how families braced for the storm, it's clear everyone is in need of assistance right now, as proven through NBC News and The New York Times' charity roundups.
If you're looking to help those who have been affected, here are some organizations in need of your assistance.
Airbnb
If you're in the surrounding area and you're able to open your home to those who have been displaced by the hurricane, Airbnb's disaster program is one way to get involved.
Direct Impact Fund
The Direct Impact Fund, described as "an independent, registered 501(c)(3) non-profit organization," distributes money to various campaigns within the United States and surrounding areas that have been affected by disasters.
Best Friends Animal Society
If you're concerned with how man's best friend manages during these horrific events, organizations like the Best Friends Animal Society work to ensure the safety of animals.
Salvation Army
The Salvation Army is looking for donations, and you have the option to do so by phone, mail, or online.
Though there are certainly ways to make a positive impact, The New York Times does offer some insight about avoiding scams during this time. It suggests watching out for various organizations that seem relatively new and are not quite so established. If you're feeling wary about a certain organization, you can always look up its address and phone number, and don't be afraid to check out its ratings with organizations like the Better Business Bureau.
Though Irma was downgraded to a Category 3 hurricane on Sunday afternoon, the storm is still causing major damage to the areas it hits. Shortly before 4 p.m. ET on Sept. 10, Irma made landfall on Marco Island, just outside of the city of Naples, Florida. Earlier in the day, it hit the Florida Keys as a Category 4 storm.
Though many take to Twitter, Facebook, and other forms of social media to comment on the weather situation — and at times adding memes and hashtags like #Apocalypse2017 — it's quite frightening to reflect on all of the natural disasters that have occurred in such a short period of time. There have been earthquakes, hurricanes, and wildfires all within the span of a few weeks, so it's definitely clear that we cannot ignore global warming.
Our thoughts and prayers go out to everyone who has been affected by these natural disasters.