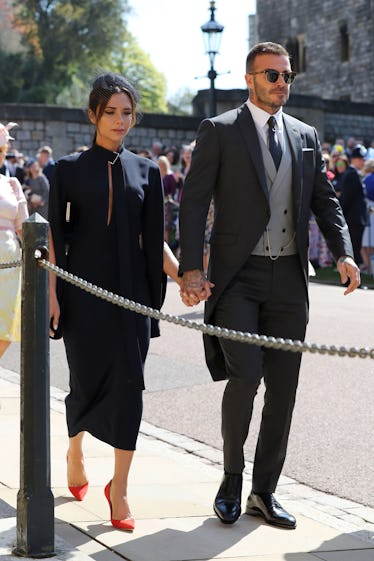 Victoria Beckham Went Full Posh Spice With Her Royal Wedding Look
WPA Pool/Getty Images Entertainment/Getty Images
When Meghan Markle and Prince Harry announced their engagement, the world shook with tremors of excitement. While other people were freaking out about the fact that an American was marrying a British royal, I was freaking out over the prospect of what Victoria Beckham's royal wedding look would bring. That woman slays 24/7 (have you seen her eponymous line?!) and her sartorial adventures are admittedly more interesting to me than any royal union ever will be. To each her own, right?
If you'll remember back to 2011, Beckham attended the wedding of Prince William and Kate Middleton, so this won't be her first royal union. To that affair, she wore a navy dress by her own design that featured an asymmetrical hemline, bateau neckline, and loose, flowy shape. At the time, Beckham was expecting her now-6-year-old daughter, Harper, so her comfy outfit choice made sense. Except once you saw her shoes, you realized her look wasn't so comfy after all. Posh Spice showed up to the 2011 wedding in a pair of custom Christian Louboutin stilettos that were so high, they could rival the Freedom Tower in height. I would absolutely take many a tumble in those shoes.
On her head, Beckham wore a matching navy hat called a fascinator. Designed by renown milliner Philip Treacy, it was pillbox in style and featured a sparkling star pendant from which decorative swirls twirled off of. The whole look was sleek and elegantly understated — a far cry from what many other guests, who opted for pastel colors and more intricate looks, wore for the occasion. Beckham clearly understands the power of chic simplicity.
Fast forward seven years, and Beckham is still one of the most fashionable women on earth. Except as of late, she's been integrating more colors and patterns into her wardrobe. For this reason, I've been excitedly speculating whether or not her look for the royal wedding would be a far cry from the one she chose in 2011. Will it have a stronger silhouette? Will she jump on the pastel train? Will design elements like pleats, ruffles, and the like appear on the dress? These are all questions that have been bubbling in my head and finally, I have answers for all of them.
The Beckhams arrived looking stunning as ever. Is there a red carpet that they don't slay, if we're being honest? But, Posh Spice's look was a little familiar, proving that sometimes style is all about sticking to what you know. She showed up wearing another navy dress, this time a midi dress from her own spring/summer 2019 collection, that featured a slash down the chest. She also wore a fascinator hat that, once again, completed the entire look. The back of her dress featured a plunging keyhole cut-out, adding a bit of a flirty touch to an otherwise fairly simple royal wedding outfit.
While her sleek silhouette looks to die for, most are getting serious deja vu with Beckham's dress choice, seeing as how it looks, well, prettyyyy similar to her 2011 fashion choice.
WPA Pool/Getty Images Entertainment/Getty Images
WPA Pool/Getty Images Entertainment/Getty Images
I've heard it said (probably on an episode of Project Runway) that you should dress like the fashion designer, instead of the models that walk down the runway. It's safe to say, I'll be channeling minimalistic and elegant looks in my wardrobe in the weeks to come. If you wanna be fashionable, you have to dress like your friends, right? *Dreams about being besties with Posh, and of course, David Beckham, too.*
Twitter ran wild with the designer's fashion choices, saying that the scowl on her face was the boldest accessory of all the arrivals. Some of the most extravagant looks included Pippa Middleton's dress that the Internet decided was worth a meme. Personally, I'm still looking at those heels and wondering how she's walking to Windsor Castle with such grace.
Can you find smiles on Google?
Aren't we all grumpy cat when there's an early morning ahead of us?
This may be our chance to get a seat at the royal wedding!
Others took to social media and spoke all the truths we know about one of our favorite Spice Girls. Seriously, despite sort-of outfit repeating at the royal wedding of Prince Harry and Meghan Markle, I'm still in awe of how she can look effortlessly stylish wherever she goes.
Can we inherit a closet just as cool?
Intel on the designer dress that's been on our minds for months?
The pressure to slay when it comes to the royal wedding is so real. But Victoria Beckham handles it all.
While we've already seen some extravagant looks at the royal wedding today, Victoria Beckham's sleek, muted look if still absolute perfection.