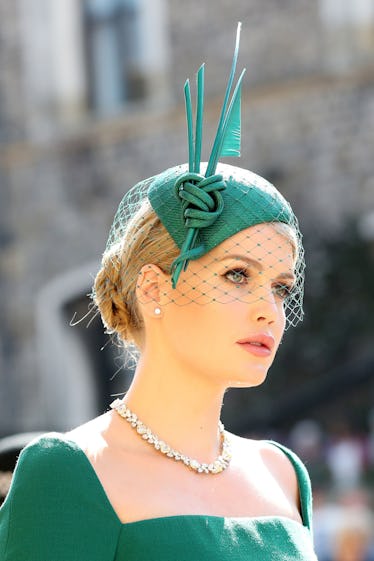 Here Are The Most Extravagant Looks From The Royal Wedding, Because Extra Is So In RN
WPA Pool/Getty Images Entertainment/Getty Images
I can't count how many weddings I've attended over the years (and I'm not including the ones where I've been a bridesmaid). But even as just another guest, I've always felt compelled to buy a new outfit — or at the very least, a new dress to pair with shoes and accessories I already own. Then again, these are normal nuptials I'm attending. I can't even imagine being invited to an official royal wedding. What would I wear? This is why while everyone is watching Meghan Markle's every move, I'm obsessing over the most extravagant looks from the royal wedding guests.
Maybe I'm just living vicariously through them because I love a good excuse to get super dressed up. I can picture it now: me in a navy blue dress (it's chic, but doesn't feel somber like head-to-toe black would), with a pair of nude pumps and navy fascinator to match. Though I don't have a specific design in mind, I imagine it would be loaded with feathers and rhinestones (in a tasteful way, not something that feels like it was attacked by your mom's old bedazzler).
With a guest list of over 600 people, that includes royal families and famous friends, the fashion is bound to be a show in itself. Between the dresses, the jewelry, and the fascinators (the ever-so-elaborate fascinators), there's plenty of eye candy to feast your eyes on. And truthfully, it's a nice break from the long songs and countless sermons.
Amal Clooney
Among the first guests to arrive, Amal Clooney has already won best dressed of the royal wedding. Stunning in a head-to-toe sunshine yellow Prada ensemble, the British barrister paired her sheath dress (complete with it's own train) with a matching hat embellished with a net and pearls.
Kitty Spencer
Princess Diana's niece Kitty Spencer just made her big splash onto the global scene in the most beautiful shade of emerald. The 27-year-old model wore a green dress with florals painted down the front of skirt. To finish off her look, she stylishly paired the dress with orange heels and a matching green feathered fascinator.
Priyanka Chopra
Yassss Priyanka! Where do I begin? The asymmetrical lavender Vivienne Westwood blazer? The futuristic fascinator? The Gaga-esque earrings? The fuschia makeup? It's all, just, yasss! Chopra was giving me all of the best #girlboss vibes when she arrived at the royal wedding with a grace and all the outfit goals. As if this day wasn't already star-studded, we have her look to thank for even more glitz and glam.
Serena Williams
Tennis isn't the only game that Serena Williams absolutely slays. She's a champion on and off the court, and truly stunned for the royal wedding in a blush pink dress. It cinched around the waist and brought all the best romantic vibes to an already lovely day. Seriously, next wedding I attend, I'm channeling this look for sure.
Oprah Winfrey
Let's talk another leading lady. Oprah always has me falling head over heels, and she was amongst one of the first arrivals to the royal wedding. Like Williams, she wore the most beautiful shade of blush pink, that had lace details along the bottom hem and neckline. All eyes were on her fascinator, though. The tweets about Oprah's hat, in particular, showed that everyone was obsessed. Is that florals and faux fur for spring? Groundbreaking!
The Queen of the United Kingdom
Long live the Queen and her lovely fashion sense. She loves stepping out in the brightest of colors, and settled on a bold shade of lime green paired with touches of purple. Next to Markle's mother, Doria Ragland, and the whole royal crew, the Queen is probably one of the most important in attendance to the event of the year. We're taking all of her cues when it comes to British traditions and how to be regal AF.
Pippa Middleton
Can we please talk about Pippa? If we're being honest, I totally expected her to have a "stealing the show" moment. That's sort of her style, after all! She didn't disappoint in her floral gown, featuring the most delicate shades of lilac and mint green. Although, Twitter went wild with memes, saying that Pippa's look could have been sponsored by Arizona iced tea. Do you see it?
Victoria Beckham
Victoria Beckham, a.k.a Posh Spice, had me seeing double with her royal wedding look. The fashion designer wore a navy dress with a pair of steep heels, that was very similar to her look from the royal wedding of Kate Middleton and Prince William. There's something to be said to sticking to your personal style, and the keyhole cut-out on the front of the dress upgraded it from simple to effortlessly elegant.
Meghan Markle
Would it be a best dressed list without including the bride? Markle's look was the most anticipated of the day, and she looked beautiful standing in St George's Chapel in her gown designed by Clare Waight Keller from Givenchy. The French fashion house appointed the British designer, and this was her first bridal look. Meghan wore a tiara lended to her by the Queen, and a veil that went on for miles with the most delicate details. We're grabbing all the tissues from the other side of the screen!