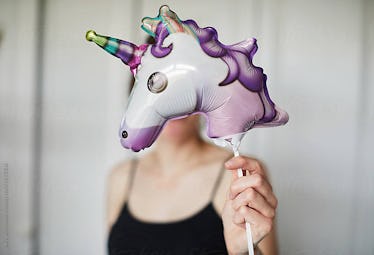 Unicorn Pudding Snack Packs Exist & I'm Ready For Lunchtime
Sally Anscombe/Stocksy
If you're like me, you've been on the hunt for the perfect summertime snack to enjoy poolside. Well, look no further everyone. Unicorn pudding snack packs are here, and I have never been more ready to get my grub on.
According to Delish, these snack packs consist of "unicorn magic" flavored goodness, and are made out of "star dust." How was this delicious snack discovered? We can thank food experts The Junk Food Aisle, who apparently came across them at the 2018 Sweets & Snacks Expo. Sadly, this delicious treat isn't quite available yet, but Snack Pack company still offers a few more flavors we can enjoy in the meantime, such as banana cream pie and butterscotch. That's great and all, but now that I know unicorn snack packs exist, I need them right now. Until I have my hands on this treat, I'll constantly wonder what exactly star dust tastes like. I have so many questions, and I need answers.
Not totally sold on "unicorn magic" flavored pudding? According to Delish, these unreleased snack packs will also come with unicorn tattoos with the snack's catchy #YasssUnicorn hashtag. This news honestly just keeps getting better and better. I can see myself now, enjoying a unicorn snack pack while rocking a unicorn tat. Does life get any better?
It's no secret that everyone is totally obsessed with everything unicorn. Personally, I think it's really Starbucks that kicked off this total craze. In April 2017, the coffee chain introduced their infamous Unicorn Frappuccino to the public, and it quickly took over an entire nation. In fact, judging from the blue and pink combination, these unicorn snack packs strangely resemble the popular frozen drink. Since the Unicorn Frappucino was unveiled, unicorn themed surprises have truly been popping up everywhere. From unicorn bath bombs, cereal, makeup tutorials, and even a unicorn water park, my mind is spinning at all this pink surrounding me.
Allow me to be a debbie downer just for a moment to ask, why are we so obsessed with this unicorn trend? Jane Buckingham, founder of the trend forecasting company Trendera, told Vox that a lot of the hype has to do with millennial nostalgia.
She said,
I think the unicorn trend is a combination of a lot of factors. Not only do the millennials remember the unicorn as a fun, carefree symbol of their youth, but in confusing times, we want things that provide hope and positivity. And nothing symbolizes that more than the unicorn.
Thinking about it, it does make sense. Who doesn't love seeing a pastel colored magical horse from time to time? Personally, I think a lost of these millennial trends are super aesthetically pleasing, and I'm loving every minute of it. Just think of a refreshing class of rosé, enjoying a delicious slice of avocado toast, or having fun by the water with an over the top pool float. Don't hate the players, baby boomers, hate the game. We millennials know exactly how to have a good time.
Speaking of the Unicorn Frappucino, have you heard about Starbucks' new happy hour specials? Apparently the coffee chain is offering $3 grande frappucinos in select stores during select times. Sure, you won't be able to sip on a pink and blue concoction anymore, but there's so many other tasty drinks to choose from, like the Ultra Caramel Frappucino or Triple Mocha Frappucino. I don't know about y'all, but my mouth is watering already.
Just when I thought I couldn't find the perfect summertime snack, I now have something totally magical to look forward to. Unicorn snack packs, please hurry up and hit stores soon.