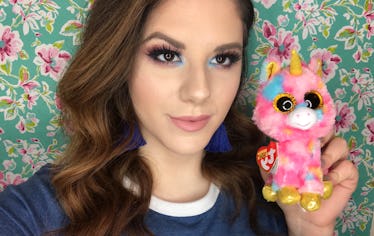 This Everyday Unicorn Makeup Tutorial Will Help You Look Magical AF, But In A Low-Key Way
Kim Carpluk
Unicorns have been running rampant in the beauty world. From the highly coveted Too Faced Unicorn Tears Lipstick to straight up Unicorn Snot glitter gel, these mythical faves have been inspiring looks everywhere. If you too want to look magical AF but in a low-key way, then this everyday unicorn makeup tutorial will have you feeling your enchanted glittery oats. With a little pop of color here and some subtle sparkle there, soon you'll be transformed in the unicorn you've always had inside — while still keeping things daytime-appropriate, of course.
Over time, I've become fully associated with unicorns in the eyes of my friends, coworkers, and peers. Maybe it's because I rock a lot of neon hues and glitter across my eyes, checks, and lips. Perhaps it's in response to my overly frilly outfits and colorful, quirky accessories. No matter the true cause, it's clear that unicorns and I have become one and the same.
One of my former coworkers gifted me a unicorn makeup bag mere weeks after meeting me. The baristas at my favorite Starbucks used to draw unicorns on my cups everyday. Even my wonderful editor bestowed upon me a stunning image of a unicorn with a sparkling, rainbow mane. So if anyone can take unicorn as the inspo and make it so low key that no one will question you rocking glitter at 9 a.m., it's me.
Now, don't get me wrong — I love a sensible, all-out unicorn look with splashes of color all over the face and a sparkly, rainbow horn to match. In fact, I've slayed those kinds of looks several times myself. However, even I must admit that they don't work for every occasion. You should be able to incorporate some unicorn inspo even if you're just going to work, class, or food shopping at Trader Joe's.
So if you want to rep your favorite magical creature in a subtle way, grab some glitter and your favorite colorful shadow palette and let's get mythical.
Start With a Neutral Base
Apply your complexion products as per usual. Because we'll be drawing a lot of attention to the eyes, I'd say less is more when it comes to contour, blush, and bronzer. The key to keeping colorful makeup subtle is balancing it with more subdued hues on all the other features.
Pink-ify The Crease
After I applied primer and swept some bone colored shadow all over my lid, it was time for the colorful shadow.
The great thing about unicorn looks is that they can incorporate literally any color of rainbow For my look, I wanted to work with pink and blue (think cotton candy vibes), but this look will work with any hues as long as you have a light, a medium, and a dark shadow.
I started by blending a pinky lilac shade, Buon Fresco, from the Anastasia Beverly Hills Modern Renaissance Palette ($42; Sephora), into my crease using little circle motions starting at the outer corner, working inward. This softer shadow gave my crease shape and would help to create a gradient once the deeper pink was applied.
Of course, what goes up must come down, so I also smudged Buon Fresco all the way across my bottom lashline.
Once I shaped my crease, I applied a little Love Letter from the same palette to deepen the outer corner. First, I patted the color on to my outer V with a flat brush. Then, I blended away any hard lines and edges with a fluffy brush. Though this shadow is extremely pigmented, a fluffy brush and very light pressure leave the application very light and airy. After sketching out the crease, I use a flat brush to build the intensity in the outer corner. Then, once again, I blend, blend, blend like it's my friend, friend, friend.
This time, I blended the darker shadow only halfway across the bottom lashline. This optically tilts the eye up, creating lift.
Get Glittery
To brighten up the center of the lid, I sketched a little Sephora Collection Colorful Shadow & Liner in Pink Glitter ($14; Sephora) on the center of my lid. This waterproof formula stays in place all day long and the pastel pink shimmer mixed with silver glitter couldn't scream unicorn more if it had a horn and literally granted wishes.
I also smudged a little into the center of my bottom lashline.
In an attempt to be a little extra (but still casual), I tapped a little Lemonhead Birthday Bitch Luxejam ($32; Get Lemonhead) onto the center of my lid. The wide variety of glitter just gives the look a little something extra.
Brighten Up The Inner Corner
If you wanted to be super subtle, you could just tap a little pearl shimmer shadow into the inner corner of the eye. However, if you want to make the most of the unicorn vibes, I suggest making the most of an unexpected pastel hue. I tapped a little Koh Tao, a blue pastel shadow from the Natasha Denona Purple Blue Eyeshadow Palette 28 ($239; Sephora) into my inner corner. It popped perfectly against the pink tones, but the muted saturation stopped it from looking too extra.
Ground The Eye
Since there's so much going on, you have to do a some liner and mascara! I love rocking a winged liner with this type of look, but you can totally just do a little smokey pencil if that's what floats your boat.
Wielding an angled brush and my Marc Jacobs Beauty Highliner in (Over)night ($25; Sephora), I sketched a navy wing across my lashline. Once again, I brought a little of this navy blue tone to the bottom lashline, right at the outer third of my eye.
I also added a moderately sized pair of false lashes. Again, this is a very optional step, but I have a small false lash addiction, so for me it's quite mandatory.
Balance With A Lip
By doing the eye first, you can make sure that the lip is extra enough to support the unicorn look, but not too extra that it competes with everything else that's going on. Going with the pink theme, I opted for the Bite Beauty Matte Creme Lip Crayon in Sugarcane ($24; Sephora). It reflects the pink hues of the eye, but the matte creme finish balances out the super reflective lid.
Who doesn't love a sensible unicorn?
Now feel free to frolic in a garden full of fairies and gnomes, my unicorn friends. Your magical powers have been unleashed.