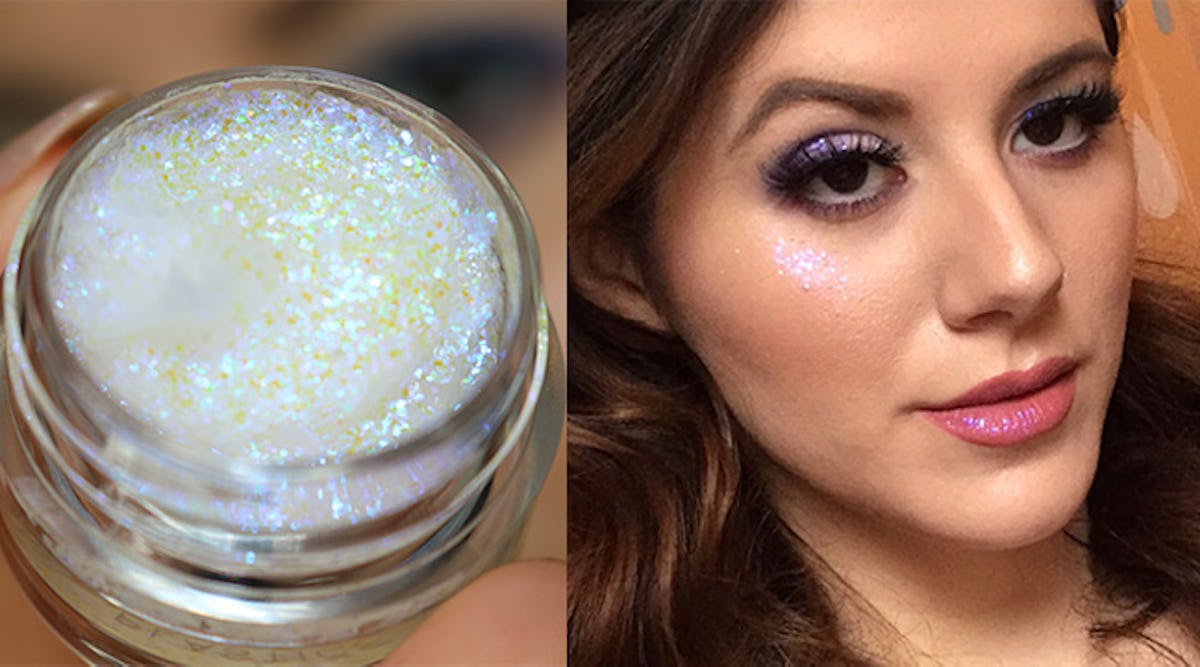 I Tried Vegan "Spacepaste" & It Looks Like Straight-Up LED Lights On Your Face
Kim Carpluk
As you might have noticed, 2018 is the year for glitter. So many brands have been releasing shining, shimmering formulations like they're going out of style. We're not even halfway through February, and Lemonhead LA has already launched the best glitter product of the year. The Lemonhead Houdini glitter reviews are in, and you'll be stupefied by this mystifying glittery goodness. It's straight-up magic (pun intended).
I'm the ultimate glitter connoisseur, which means I'm hard to impress in the realm of shiny things. I've tried dozens and dozens of glitter products. I've worn all the finishes, sizes, and adhesive formulations that are out there for consumption. With all my deep and thorough glitter experience, I can honestly say I've never seen anything like Lemonhead LA's new Houdini Highlite Spacepaste.
Houdini Highlite Spacepaste, $22, Lemonhead LA
One moment you see it, the next you don't. It disappears and reappears before your very eyes. When the light hits, the glitter shines iridescent lavender blue. It looks like dozens of super tiny LED lights twinkling from the surface of the skin. When direct light isn't hitting the product, it's clear. It looks as if the product just isn't there at all. Just like Houdini, this glitter performs magic tricks. Simply see for yourself.
Like any good makeup detective, I had my doubts after seeing the initial images and videos on Instagram. How can a glitter disappear right before your very eyes? If this was possible, wouldn't we have seen something like this on the market already? Is it straight-up defying the laws of physics? Unclear. My cosmetic Nancy Drew self wanted to do some deeper research, so I decided to test-drive this product for a full day to see if it truly is as magical as it seems. Spoiler alert: Harry Potter is shook. Merlin is quaking. I only want to wear this product on my face every day for the rest of my life.
I started by swatching the Spacepaste in question on the inside of my wrist. Dude, it was even prettier IRL than in all the videos I had seen (which is a feat in itself).
It really does disappear when the light isn't hitting it. What witchcraft is this?
To prepare my face for this magic potion, I created an eye look using blues and purples that I knew would be harmonious with Houdini. I also applied a little Sephora Collection Cream Lipstain in Marvelous Mauve to my lips.
Sephora Collection Cream Lipstain, $14, Sephora
When I do glittery lips, I always prefer a matte base so the glitter doesn't become embedded in the lipstick formula. You don't want chunky, mushy non-reflective glitter lips, trust me.
I started by applying the glitter to my eyes. You can use your fingers, but I prefer to use a synthetic brush for precise placement.
Just try to tell me it doesn't look like there are dozens of tiny blue fireflies dancing across my lids. I'll wait.
After applying this gorgeousness all over my lid, I then tapped the Houdini Spacepaste on top of my orbital bone as a highlight. For this piece, I did use my finger because I didn't want the saturation to be as heavy.
Last, but certainly not least, I tapped the Spacepaste all over my lips, starting at the center and working outward.
The results are out of this world. This glitter not only lived up to my very high expectations, it shattered them into tiny shimmering bits.
All day long, friends and coworkers kept commenting on my look. Most of them mentioned how the glitter looked like tiny LED lights on my eyes, lips, and face, which I think is the most magical part. I thought glitter allover might be overwhelming, but because it goes clear when it's not directly in the light, the look was a lot more subtle than I was expecting.
Go get this glitter right now on Lemonhead LA's website. It launches on Feb. 14, and is only available in limited quantities. Just blink, and you'll miss this magic trick.