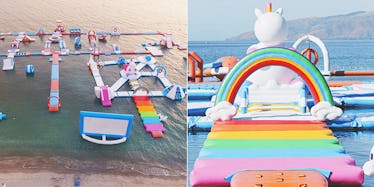 An Island Made Of Inflatable Unicorn Floats Exists & It's Your Dream Vacation
Inflatable Island
If you are dreaming of the perfect summer getaway, well, dream no more because there is an inflatable unicorn island in Asia calling your name. This is not a drill. Let me repeat: There is an inflatable unicorn island in Asia waiting for you to come play. Nothing looks more magical than basking in the sun and floating amongst a colorful sea of air-filled rainbows, clouds, and of course, a larger-than-life unicorn. Go text your friends because a trip to the other side of the world might be in order for this totally Insta-worthy getaway.
Just off the coast of the Philippines lies a truly enchanting oasis made up of summer's best water floats — and it's bigger and better than ever before with the addition of the Unicorn Island. Situated in the Subic Bay, a continuation of the South China Sea, lies a colorful blow-up display that is billed as the "biggest floating water park in Asia," according to the Inflatable Island website. You can wobble your way down the rainbow walk, climb a sea unicorn, or slide down the back of the honorable magical unicorn (also known as Baba, the island's resident magical horse). And by the looks of it, it does not disappoint. I mean, just look at the pictures.
The dreamy tropical paradise features more than 4,100 square meters of fun. For anyone keeping tabs, that's as big as eight side-by-side basketball courts. The playground on the ocean boasts 20 different outdoor activities including inflatable slides, towers, bridges, swings, human launchers, and more. While you're there, make sure to rent one of the Floating Flamingo and Unicorn Cabanas for you and five of your friends to cool off in when you're not busy exploring the giant water playground.
Have I convinced you to book your plane ticket yet? No? OK, maybe this last part will seal the deal. In addition to the awesomeness that is the island made of giant inflatable water floats and games, there is also a bar called the Pink Bali Lounge on the shore, and it's decked out in a jaw-dropping mix of pinks and purple hues. If you've been going hard on the playground, chances are high you're gonna need some relaxation time. So grab a drink while you rest your bones in a sophisticated bean bag chair under the shade of a trendy tassel umbrella.
A few things to know before you go: You can buy a one-hour pass for 499 Philippine Piso's ($9.57 American dollars) when booked ahead of time. Of course, if you're traveling to the area just for this, you should probably stay for the whole day. Lucky for you, the all-day play pass cost $16.29 American dollars if you book in advance. Not only does it buy you a day's worth of fun, but it also gets you access to everything the playground has to offer including the beach, Pink Bali Lounge, and the inflatable and unicorn islands. This is really starting to offset the cost of all that travel and jet lag. So go on, live your best life — because this looks like the trip of a lifetime.
When you're packing your suitcase, be sure to toss in a rash guard or two. The company says this is the best way to have the most fun on the slip and slide without hurting yourself. And don't worry, they still encourage you to bring favorite bathing suit, too, for all of those pics that will make your followers jealous.
Maybe Asia wasn't originally in your summer travel forecast, but it's time to rethink those plans and book a flight with friends ASAP. If you can't make it overseas to play, you can still have your own water fun this summer. Check out these pretty seashell floats that will really step up your pool party game. If you can't decide which one to buy, let your horoscope guide you with one of these inflatable options.
But if you do make the trek to the other side of the world, you better put it on Instagram — because pictures or it didn't happen.