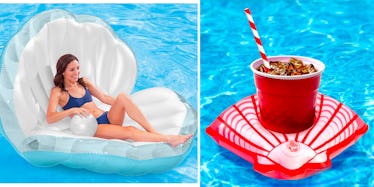 Buy These Cute AF Seashell Floats For A Shell Of A Good Time At Your Pool Bash
Don't you just love hanging out poolside throughout the summer? Don't get me wrong, I have nothing against the beach, but there's something so serene about swimming around in a pool every now and then. It's convenient, it's a bit quieter, and you get to totally space out and relax however you see fit. Maybe you have a soft spot for the plush lounge chairs, or you're the type who dives right into the deep end as soon as you get there. Or maybe you're the kind of gal who loves to relax on some cute seashell pool floats.
Pool floats are not just for kids anymore. They're essential for any kind of summertime pool bash, and you should really hop on the trend if you haven't already. Not only are they perfect for catching some rays in the pool, but they also double as amazing Instagram props that you're not going to want to miss out on this season. These cute floats will take over your feed this summer, so get ready to slay.
The next time you're feeling those summer vibes and think you're ready to hit the pool, be sure to take one of these six cute AF seashell pool floats along. It'll be worth all of that energy you spent blowing it up, I promise.