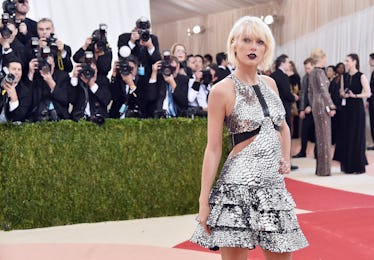 Taylor Swift Dropped 'Reputation' But Fans Are More Obsessed With Her Rainbow Dress
Mike Coppola/Getty Images Entertainment/Getty Images
IT's HERE. Taylor Swift's sixth studio album, Reputation, dropped on iTunes early to the joy of eager fans worldwide. Just after 11:30pm on Nov. 9 — ahead of its Nov. 10 midnight release — Taylor tweeted from her official account that Reputation is out and ready to download. But not all fans got excited about just the album dropping. Fans are furiously tweeting about the rainbow dress Taylor Swift wore in her album drop announcement — and they're freaking out.
It's been three long years since we last saw a T.Swift album drop, and loyal fans have long awaited this day. Reputation is out — and from what we've been hearing it's living up to fans' expectations. Swift has been teasing the album since the first elusive Instagram videos she posted back on Aug. 22, featuring an animated snake. Since then, Swift has released four singles off the album, two full-length music videos, and performed her emotional song "New Years Day" in an exclusive preview on Nov 9, during ABC's TGIF programming.
And while there's definitely enough material on the album itself to obsess over, fans on Twitter also started to obsess over a seemingly unrelated topic: the rainbow dress Taylor Swift wore in the album drop announcement on Twitter.
The tweet responses that followed are as amazing as the dress itself.
Supposedly, if you purchase a deluxe Reputation booklet (exclusively available at Target), you receive a hard copy of the album and a complimentary poster — and fans were hoping the rainbow dress photo would be it.
Clearly the rainbow dress Taylor Swift poster is already the fan favorite, per the tweets that we've seen. But even if fans aren't blessed by the now semi-infamous rainbow dress poster, we're sure the album itself will satisfy any major T.Swift fan.
Most Taylor Swift albums are somewhat predictable. We can expect breakup songs, some love songs, and some badass (or backstab-y) tracks. But this album feels a little different. And a major reason for that different feeling is the fact that Taylor Swift has been in a different place over the past year or so.
After a public split from then-boyfriend Tom Hiddleston, which was followed by a whole lot of public backlash, it seemed like Taylor went into hiding. And for good reason, might I add. If someone went after me at like the way the media and general public went after Swift during a personal, emotional time, I'd want to keep myself out of the public's eye as much as humanly possible.
And it seems like staying out of the spotlight is working well for Taylor Swift.
She's since found herself in what we can only assume is an amazing new relationship with up-and-coming British actor Joe Alwyn. The two have been reportedly dating for about a year, and from what we've heard so far on Swift's new album things are going very well. Most songs off of Reputation are speculated to be about Swift's new man — from the second track, "End Game," to track five, "Delicate," through the finale, "New Years Day." There's no shortage of Alwyn-inspo on this album, and Swifties everywhere are freaking out over Taylor Swift finally finding the love she's dreamt of and deserves.
All the lovey dovey stuff aside, this album release has been a long time coming for both Taylor Swift and her fans. She's reinvented herself time and time again, and Reputation is no exception. After working for so long and keeping herself hidden for these past few years, she's finally back and ready to take center stage. And if T.Swift is wearing that rainbow dress, I'm sure fans will welcome her with twice the enthusiasm that they normally would. It's just that good.