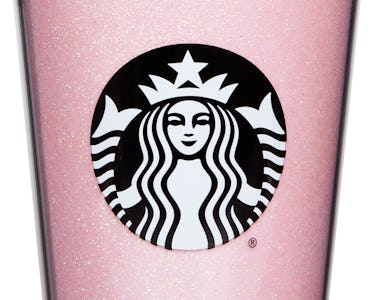 Starbucks Is Selling Rose Gold-Colored Merch & Twitter Is Absolutely Losing It
Starbucks
The internet nearly broke when news about Starbucks' pink-hued holiday cups hit Twitter earlier this week. The gorgeous new cups (which are actually called "Pink Cold Cups," according to Starbucks), are part of Starbuck's in-store gift lineup for the holiday season, and I guess no one knew about them until this week. What a beautiful surprise, right? The moment the internet found out about the Starbucks gems, everyone resorted to calling them "rose gold," and these tweets about Starbucks' rose gold-colored merch prove how obsessed everyone already is.
Before I show you how much the internet loves rose gold (and Starbucks, obviously), let's talk about the cups a little bit more so you know what you're getting yourself into. The Pink Cold Cups that everyone's freaking out over come in three different forms: Pink Stainless Cold Cup ($19.95), Pink Sequins Plastic Cold Cup ($18.95), and the Pink Glitter Cold Cup ($14.95). They can all be found in licensed Starbucks store locations inside grocery stores, airports, hotels, and retailers (like Target). In other words, run — don't walk — to your nearest Starbucks store for a tumbler.
For a better look at how amazing these look next to each other, check out the photo below. It'll make you pink with envy that you don't have one for yourself.
Wow... just, wow. To be honest, I'm starstruck by this trio. Apparently, Twitter feels the same way.
I'd say they're definitely "shook."
"This isn't a want. This is a NEED."
They're obsessed.
WE NEED IT.
"THEY'RE SO CUTE OMG."
We're all here for it.
"Merry Christmas to me."
People are curious about when they can buy them.
News flash! They're available right now.
"BECAUSE EVERYONE NEEDS A ROSE GOLD TUMBLER IN THEIR LIFE."
So pretty, indeed.
They're at the top of everyone's Christmas lists.
Yes, the rumors are true.
See? Even though Starbucks' newest holiday cup collection isn't technically called "rose gold," Twitter took the color to heart in a big way. By now, it's safe to say your local Starbucks might run out of the color if you don't get there fast enough.
In case these tweets didn't persuade you to buy a Pink Cold Cup for yourself, maybe detailed photos of each tumbler will. After taking an up-close look at the product, you'll wish Santa could leave each one of these in your stocking this year.
Pink Stainless Cold Cup
This one's perfect for anyone trying to rock the sweet-and-simple morning look, and although everyone thinks this colors reps rose gold, I'm getting serious millennial pink vibes.
Pink Sequins Plastic Cold Cup
Bling-bling, am I right? This cup suits anyone trying to liven their mornings with a little sparkle. To be honest, I'm all for it.
Pink Glitter Cold Cup
Out of all three of these, I think I like this one the best. It's simple with the perfect amount of shine.
OK, now I know you're falling in love with the Pink Cold Cups. If you're hoping to snag one for yourself, head to your local licensed Starbucks store. However, please keep in mind that merchandise availability varies by store and date. Cross your fingers you'll be able to buy a Pink Cold Cup!
If you're a lucky enough to have one for yourself, I have some drink suggestions you can fill up your cup with. Since it's nearly winter, you should definitely check out some of the returning holiday drinks at Starbucks. If you're looking for something new, take a sip of Starbucks' Toasted White Chocolate Mocha. It seems like the perfect drink to put you into the holiday spirit... and sipping from a Pink Cold Cup will make it even tastier.
Check out the entire Gen Why series and other videos on Facebook and the Bustle app across Apple TV, Roku, and Amazon Fire TV.