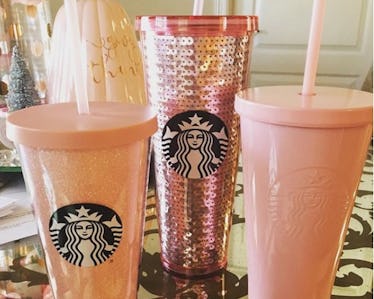 Starbucks' Rose Gold Merch Is Here & You're Going To Be Obsessed With It
Our hearts crumbled when we discovered the new iPhones wouldn't be available in our beloved rose gold hue. Luckily, our favorite coffee company decided to make up for the loss we experienced. For those who think pink on a daily basis, it's time to plan where to buy Starbucks rose gold merch.
That's right, coffee aficionados: Get ready to sound the alarms. Starbucks decided to roll out a collection titled Pink Cold Cups, which includes the Pink Stainless Cold Cup ($19.95), the Pink Sequins Plastic Cold Cup ($18.95), and Pink Glitter Cold Cup ($14.95). Morning latte orders are now going to look as pretty as they are delicious thanks to these bad boys. It's time to make a beeline to the nearest store and purchase one (or five). Can we really be expected to pass up an opportunity for something delicious and Instagram worthy?
The gorgeous, Regina George pink-approved tumblers have made their way to the coffee shops across the U.S., as well as Starbucks inside grocery stores, airports, hotels, and retailers such as Target, according to a rep for the company. Put those Nancy Drew super sleuthing skills to work — a quick peek in your neighborhood shop for one of these positively pink purchases is a necessity.
With a dash of glitter and a pile of sparkles, Starbucks' latest tumblers are sure to be a hit.
But this isn't the only new item rolling into Starbucks. While customers are picking up rose gold tumblers for friends and relatives this Christmas, they can also enjoy a festive, new treat. Starbucks' Toasted White Chocolate Mocha — rather, Christmas in a cup — has made its debut, and it has coffee lovers wholeheartedly embracing the season and putting Mariah Carey on full blast (though it's always an acceptable time to hear "All I Want for Christmas Is You"). According to a Starbucks press release, this flavor was the perfect addition to the menu. The statement reads,
Chocolate is a part of many holiday traditions; it is also a wonderful complement to our signature espresso roast. We took white chocolate and applied a culinary twist by slowly roasting white chocolate to brown the cocoa butter and caramelize the milk and sugar. This deepens the flavor, makes it more complex and brings out toasted nutty notes that linger as you sip the beverage.
This holiday season, the coffee company is all about "giving good," starting with those Pink Cold Cups (just kidding... or am I?). The Starbucks 2017 holiday cups are about more than just looking pretty — they're about doing for others. It's a totally sweet message to spread this time of year, especially given the cup's design.
"I liked the idea of hands as the centering point, a symbol of connection, love and giving joy, whether it's wrapping presents or decorating a tree, writing cards, or enjoying a mug of cocoa," Jordan Kay, the cups' illustrator, said in a statement.
The company decided to put a spin on its classic red holiday cups and change things up a bit. This is the first time Starbucks has unveiled a color-in holiday cup for its customers, and there's definitely a sweet reason for the change.
"This year's cup is intentionally designed to encourage our customers to add their own color and illustrations," Leanne Fremar, executive creative director for Starbucks, said in a statement. "We love the idea of everyone making this year's cup their own."
Who wouldn't want to take a sip of a warm treat out of one of these babies?
Starbucks, you never cease to amaze us. Just put aside a few (hundred) of those Pink Glitter Cold Cups and we're in business.
Check out the entire Gen Why series and other videos on Facebook and the Bustle app across Apple TV, Roku, and Amazon Fire TV.