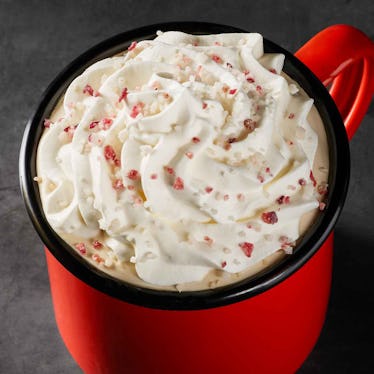 Starbucks' Toasted White Chocolate Mocha Is Here & It Tastes Like Holiday Cheer
Starbucks
Like I knew they would, the folks at Starbucks debuted a brand new holiday beverage on Thursday, Nov. 9. It's called the Toasted White Chocolate Mocha, and no, it's not the same as the regular White Chocolate Mocha... it's toasted. After hearing the news, I made my way over to my local Starbucks for an official sip of holiday cheer à la the coffee chain's newest drink. And yeah, Starbucks Toasted White Chocolate Mocha tastes like the holidays in a cup. It's practically a drinkable dessert, delicious and unapologetically reminiscent of white chocolate fudge.
As was the case when I tried the company's Zombie Frappuccino hours after it was announced, my neighborhood baristas weren't fully sure how to make the drink look like the photos I'd seen ahead of time. Granted, I did order it iced. Since it comes in all forms — hot, iced, and frappuccino — I figured adding some ice cubes wouldn't be a huge deal.
For reference, in the photos provided by Starbucks, the bev — made with a toasted white chocolate mocha sauce and creamy milk base that's topped with the company's signature espresso — looks like a thing of beauty. Even the iced version looks particularly scrumptious, topped with whipped cream and special candied cranberry sugar. Which is why I went ahead and ordered it cold instead of hot despite a somewhat blistering chill in the New York City air on the morning of Nov. 9.
In a press release making the official Toasted White Chocolate Mocha announcement, Starbucks beverage development team member Erin Marinan spoke to the always-innovative company's decision to craft a festive take on its hit White Chocolate Mocha. Marinan said,
When thinking about a new holiday beverage, we started with the idea of gifts from the heart, and how traditional recipes often become gifts to share. Chocolate is a part of many holiday traditions; it is also a wonderful complement to our signature espresso roast. We took white chocolate and applied a culinary twist by slowly roasting white chocolate to brown the cocoa butter and caramelize the milk and sugar. This deepens the flavor, makes it more complex and brings out toasted nutty notes that linger as you sip the beverage.
I mean, it sounds incredible when you put it that way. As for those picturesque toppings — the candied cranberry sugar — Marinan noted that the red sugary pieces add a much-needed bit of pizzaz to the drink. "The tartness of the sugared cranberries complements the creamy toasted white chocolate and adds a bling of holiday color," she continued in the statement.
OK, so all this considered, I was super duper excited to have my first sip of the holidays exactly two weeks before Thanksgiving. Excited to see my Starbucks had transformed into a holiday-inspired oasis overnight, I gleefully ordered a grande iced Toasted White Chocolate Mocha, which rang up to $5.72 after tax.
When my name was called, however, I was a little disappointed to see that my iced Toasted White Chocolate Mocha wasn't topped with whipped cream like the photo I was drooling over minutes before, nor did it have any of the candied cranberry sugar. It was instead topped with an unexpected layer of caramel drizzle (still delish). Confused, I asked the barista if he could please add some of the candied cranberry sugar topping because I was there for the "bling of holiday color" Marinan described. He quickly obliged and reached for the unopened canister of drink bling, removed the protective seal, and doused my ice cold drink with fresh sugar crystals. Before handing it back to me, he topped the whole thing off with more caramel drizzle.
And that, my friends, was my Toasted White Chocolate Mocha. Was it as picture-perfect as I assumed? No, but it tasted wonderful — like a sweet white chocolate fudge my grandma would make at Christmastime. In conclusion, toasted white chocolate mocha sauce can do no wrong, and I'd definitely order the Toasted White Chocolate Mocha again. Cheers to the holidays, everyone!
Check out the entire Gen Why series and other videos on Facebook and the Bustle app across Apple TV, Roku, and Amazon Fire TV.