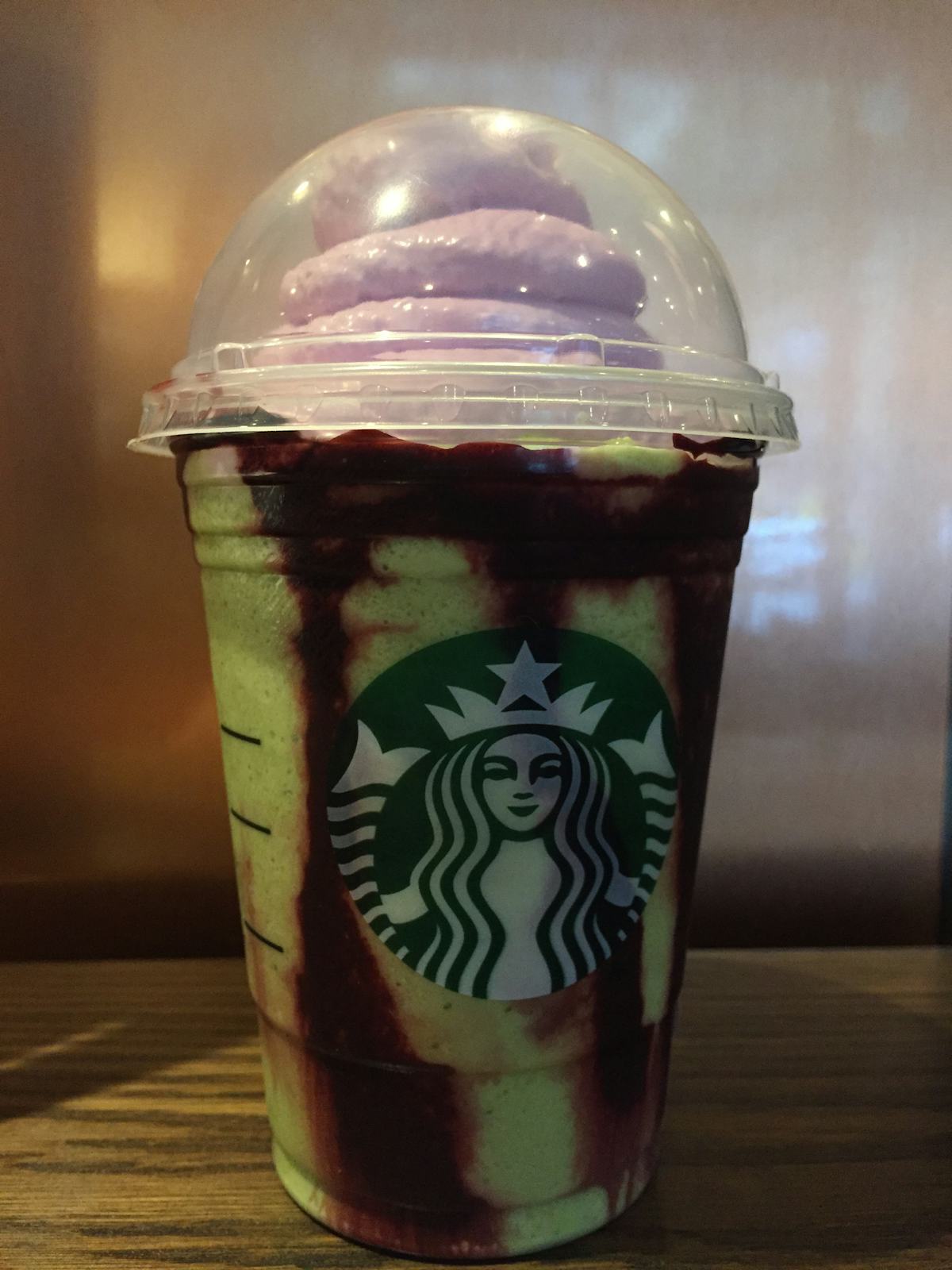 Starbucks' Zombie Frappuccino Is Here & It Tastes Like A Halloween Party In Your Mouth
Macy Daniela Martin
"What's it called again?" The barista at my local Starbucks asked her colleague what I ordered before handing over my Zombie Frappuccino on Thursday morning, Oct. 26. It was 9:53 a.m. and I was, presumably, her first Zombie Frappuccino customer. Starbucks had just confirmed the rumors of this new monster-inspired beverage in an 8 a.m. press release, so I was definitely early and couldn't blame her for forgetting its spooky name. Once the "ghastly" green frappuccino with blood red streaks was in my possession, I promptly took my first sip. And yep, Starbucks' Zombie Frappuccino tastes like caramel apples — just like Starbucks said it would in their release.
"We thought about what you'd serve at a Halloween party, and we settled on dipped caramel apples," Starbucks' beverage development team member Jennica Robinson said. "It has a tart green apple favor balanced with a smooth, sweet caramel." Though some products don't always match their brand-given description, the Zombie Frappuccino manages to do just that. The flavor is truly balanced and reminiscent of fall's favorite snack: sticky caramel apples.
When a drop of Zombie Frappuccino hits your palate, those tart hints of green apple come through first. Fitting since it's a green drink, huh? As the tangy liquid travels toward the back of your tongue, a rich caramel flavor begins to build, yielding that full-bodied caramel apple explosion. Yum. Because I made my trip to Starbucks so early in the day, the the Zombie Frappuccino was the actually the first thing to hit my tastebuds on Thursday, Oct. 26. That's why you can trust me when I say IT IS GOOD.
One thing I wished would've been different about the real-life Zombie Frappuccino is the pink whipped cream. In Starbucks' eerie photos of the drink, the pink whip is swirled in an unusual pattern resembling, well, brains. In my Grande Zombie Frappuccino, it was shaped like any other whipped topping and looked more purple than pink, sadly. But those are just aesthetic things that could be attributed to the fact that I placed my order less than two hours after Starbucks announced the drink's existence.
If you're wondering why Starbucks chose to pay homage to zombies, their inspiration was not The Walking Dead (well, at least not officially). Robinson elaborated on their brainstorming process in her statement. She explained,
When brainstorming a new Frappuccino flavor for this Halloween, we started by thinking about a Halloween party and monster mash. We had already invited Frankenstein and vampires to the party, so we came up with another monster that could join the bash.
It's unclear if ordering a Zombie Frappuccino makes you an honorary member of Starbucks' "monster mash", but I will be sipping them all Halloweekend.
Prior to the company's bombshell announcement, rumors swirled about the Zombie Frappuccino's existence. We at Elite Daily can attest to the fact that they did an A+ job staying mum about the new menu item up their sleeves, because they wouldn't give us any spoilers. In an emailed statement, Starbucks initially told us,
Our Halloween plans are still under [mummy] wraps, but we look forward to sharing more details with the living soon.
The mummy wraps are off now though. Many people took to Twitter to express their excitement in the form of SCREAMS.
A warning to all: The Zombie Frappuccino is scary-delicious, and it's only available until Tuesday, Oct. 31, while supplies last. That said, zombie-walk your way to the nearest Starbucks as soon as possible.
Check out the entire Gen Why series and other videos on Facebook and the Bustle app across Apple TV, Roku, and Amazon Fire TV.