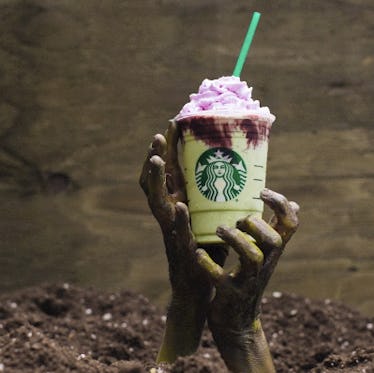 Starbucks' Zombie Frappuccino Is Finally Here & Twitter Is Screaming With Delight
Zombies have never really taken up a large portion of my daily thoughts. That is until today, when I learned that Starbucks released a limited-time Zombie Frappuccino. Now, I can think of nothing else except the sweet, sweet taste of the undead (there's no way to make that not sound creepy). Apparently, Twitter is all about this spooky beverage, and these tweets about Starbucks' Zombie Frappuccino will show you just how excited Twitter is about this Halloween treat.
If you're not yet caught up on what the Zombie Frappuccino is, I'll go over the most important details. As with most treasured sips, this is a limited-time drink offering, and it will be available from Oct. 26 until Oct. 31 (or while supplies last). Before you head to your car to make sure you get in on Starbucks' latest Halloween offering, you might want to know what kind of flavor the Zombie Frappuccino has going on.
You'll be pleasantly surprised when you find out that the Zombie Frappuccino was inspired by caramel dipped apples. Your green-hued blended beverage will also be topped with pink whipped cream "brains" and a red mocha drizzle. Intrigued? Well, join the party, because Twitter is screaming its praise for the Zombie Frappuccino.
It's already waking the undead (or very sleepy) Starbucks loyalists.
It's nice to know that you can count on the Zombie Frappuccino to be there for you (while supplies last).
Starbucks knows that it can be tough to keep your mind on the road when you've got zombies on the brain, so they did their best to put this commenter at ease.
If you're using your head, then you always choose brains for breakfast.
Starbucks seems to agree with this choice of morning meal.
This may happen when you get too excited about sipping the chilly brains of the undead.
Nothing better than a glowing review straight from the source.
Baristas always know what's best for you.
Seriously, what did we do right to deserve baristas? Look at that artwork!
It's always nice to have something delicious to look forward to.
Starbucks knows that the best reward for studying hard is ice cold brains.
You'll likely follow the lead of this commenter after reading all about the Zombie Frappuccino.
I mean, how could you resist?
People are serious about getting their hands on this concoction ASAP.
Like, all-caps serious.
Starbucks is here to make sure you act fast before this drink gets away from you.
I'm pretty sure my life will be in shambles if I don't get one today.
It's clear to see that Twitter is very much here for this seasonal drink. Really, though, how could you not be excited about a Zombie Frappuccino that is topped off with pink brains? It's the perfect complement to a holiday that's devoted to brining the the big time scares.
The only thing scary about this drink is the possibility that you might not get a taste if you wait too long to try it. So, make sure you're not moving like a zombie when it comes time to get in line to for this caramel apple flavored drink offering. Putting a little pep in your step will benefit you greatly when it comes to making sure the Zombie Frappuccino makes an appearance in your Instagram feed.
If you want to invite more scary sips to your culinary monster mash (and Instagram story), Starbucks also brought back a Halloween favorite from last year. For something that you can really sink your fangs into, order up a Frappula Frappuccino. If you want to double your Halloween spirit by ordering both of these limited-time Frappuccinos, go ahead and share one with your best Halloween-loving pal. Or not... sometimes it's every zombie for themselves, right?
Check out the entire Gen Why series and other videos on Facebook and the Bustle app across Apple TV, Roku, and Amazon Fire TV.