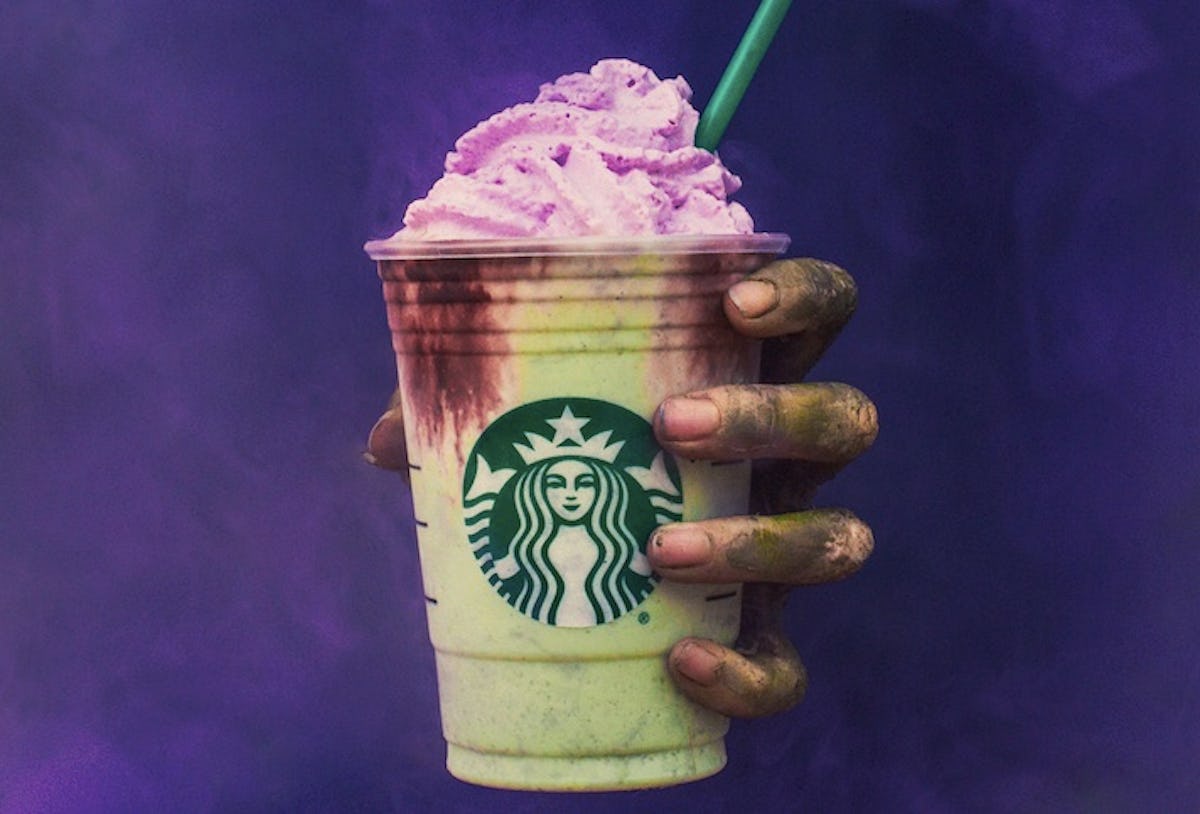 Starbucks' Zombie Frappuccino Has Invaded But It Won't Be Here For Long, So Act Fast
Is that a zombie?! Oh wait, no — it's just a frappuccino. In case you haven't noticed, creepy green drinks have officially invaded your local Starbucks stores just in time for Halloween. The spooky new beverages that have risen from the dead are called Zombie Frappuccinos, and they're bound to give your pre-Halloween mornings a spooky boost. So, how long will Starbucks' Zombie Frappuccinos be available? You might be disappointed (or scared) when you find out.
If you love Halloween as much as we do, you probably wish all the creepy holiday drinks at Starbucks could last all year. Unfortunately, October is coming to a close soon, and the new Zombie Frappuccino will end the month on a spooky (and delicious) note. According to a press release acquired by Elite Daily, the drink is officially available in participating stores throughout Canada and the U.S. starting Thursday, Oct. 26. However, it will only survive until Halloween (or while supplies last).
This means you should probably channel your inner zombie and run to your local Starbucks so you can give the new drink a taste. Since you only have roughly six days to try it, you better act fast — especially if supplies run out before Halloween.
Oh, before you stumble into your local Starbucks, do you want to know how it tastes?
I'll take that as a "yes."
According to Starbucks' News Room, the Zombie Frappuccino is a "ghastly green" color made from Starbucks' Frappuccino Crème. Apparently, the crème is infused with flavors of caramel and tart apple that are perfect for a sweet fall morning treat. Above the delicious frappuccino is "pink whipped cream 'brains' with red mocha drizzle." In other words, the drink is basically the delicious undead frappuccino of the Starbucks menu, and I'm so excited to give it a try.
Here, take a look at the drink for yourself. It's just as spooky as it is appetizing and I'd love to sip on one while snacking on some Halloween candy this weekend.
So, how did this monstrous concoction come to be? Let's just say it wasn't from a zombie apocalypse of any sort.
Jennica Robinson of the Starbucks beverage development team talked about the new drink in Starbucks' press release. She commented on what inspired the zombie-like frappuccino, and it definitely wasn't The Walking Dead. Instead, it was inspired by Halloween parties.
Robinson said, "When brainstorming a new Frappuccino flavor for this Halloween, we started by thinking about a Halloween party and monster mash. We had already invited Frankenstein and vampires to the party, so we came up with another monster that could join the bash."
I don't know about you, but I'm ready to celebrate All Hallows Eve during Halloweekend with a Zombie Frappuccino in hand.
In case you're confused about what Robinson was talking about when she referred to "Frankenstein and vampires" already being invited to the party, allow me to explain. In the past, Starbucks has released Halloween-inspired drinks like the Franken Frappuccino in 2015 and the Frappula Frappuccino in 2016. Now, we have a zombie in the mix! Can I be invited to this "monster mash"?
Apparently, the Zombie Frappuccino's flavor was also inspired by Halloween parties. Robinson continued in Starbucks press release, and said, "We thought about what you'd serve at a Halloween party, and we settled on dipped caramel apples. It has a tart green apple favor balanced with a smooth, sweet caramel."
Wow. This drink just put me in the Halloween spirit and I haven't even tried it yet. Make sure you give the Zombie Frappuccino a taste so you can partake in the tasty Starbucks' monster mash before the end of the month.