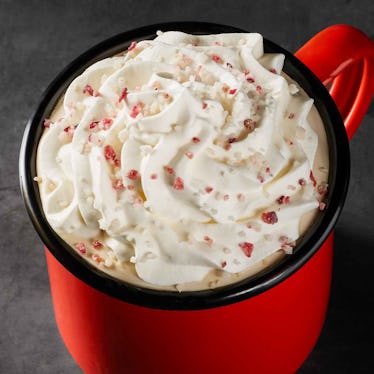 Starbucks' Toasted White Chocolate Mocha Is Here & It'll Sweeten Your Holiday Season
Starbucks
On the heels of Zombie Frappuccino mayhem, Starbucks just released yet another new drink. Starbucks' Toasted White Chocolate Mocha is here, and it's going to be your new holiday go-to as of Friday, Nov. 9. The toasted, "festive twist" on the coffee chain's classic White Chocolate Mocha will be available throughout the holiday season while supplies last, Starbucks announced in a press release.
It Tastes Like Holiday Cheer
According to Starbucks, the Toasted White Chocolate Mocha has "caramelized" white chocolate flavors, which leads me to believe it has slightly s'mores-like vibes. Starbucks beverage development team member Erin Marinan described the new drink perfectly in a statement. They said,
Chocolate is a part of many holiday traditions; it is also a wonderful complement to our signature espresso roast. We took white chocolate and applied a culinary twist by slowly roasting white chocolate to brown the cocoa butter and caramelize the milk and sugar. This deepens the flavor, makes it more complex and brings out toasted nutty notes that linger as you sip the beverage.
It's topped with whipped cream and candied cranberry sugar, so it looks like something straight out of a holiday card. Plus, as Marinan noted in her statement, "the tartness of the sugared cranberries complements the creamy toasted white chocolate and adds a bling of holiday color." Expect to find the Toasted White Chocolate Mocha at Starbucks locations in the U.S. and Canada. You can order it hot, iced, or even as a frappuccino — if, like me, you're the kind of person who avoids hot bevs.
On the off chance Toasted White Chocolate Mochas aren't your thing (even ones topped with candy), your favorite coffee spot also brought back six old faves this season including the Crème Brulée Latte, the Chestnut Praline Latte, the Peppermint Mocha, the Eggnog Latte, the Holiday Spice Flat White, and the Gingerbread Latte. Counting the new Toasted White Chocolate Mocha, Starbucks has a total of seven drinks for you to enjoy until the new year. You could — I mean, if you wanted to — have a different one every day for a week.
In addition to a super tasty drink lineup, Starbucks is doing something special this year for its holiday cups. The coffee giant continues to raise its own bar, and for its 2017 holiday cups, Starbucks is letting customers give their cups a personalized spin. Yep, this year, you can color-in your Starbucks cup just like an adult coloring book. Whether you want a black and white look or a full-on holiday theme — the choice is yours, and that's so, so awesome. Speaking to the company's unique design choice, Starbucks' executive creative director, Leanne Fremar, said in a statement,
This year's cup is intentionally designed to encourage our customers to add their own color and illustrations. We love the idea of everyone making this year's cup their own.
Besides the custom aesthetic, Starbucks is using its coffee sleeves to send a hopeful message this season, too. Their red holiday '17 sleeves read "Give Good" in order to inspire customers to celebrate each other and their communities.
It's almost as if the cups were made for a new bev like the Toasted White Chocolate Mocha, right? Grab one now to get a taste of the holiday spirit... BEFORE Thanksgiving! And if you prefer to take your own cup to Starbucks, their new holiday-themed collection of mugs, tumblers, and cold cups is also available as of Thursday, Nov. 9.
Check out the entire Gen Why series and other videos on Facebook and the Bustle app across Apple TV, Roku, and Amazon Fire TV.